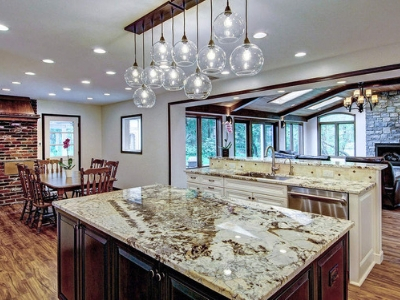 When you look at your kitchen, you see it as a whole. You've got the lights, the cabinets, the floors, the appliances, and maybe most importantly, the food.
But when you break your kitchen down into those different sections, you might start paying attention to more detail. Here are some details that you could be ignoring in your kitchen that actually should be given more thought than you might have realized.
Your Accent Lighting
Lighting can make or break your kitchen, and it's something that's overlooked because you might think of your overhead lights and then be done. But there are endless lighting details you can add to a kitchen to spruce it up.
Natural light is one of the most pleasant light types you can bring into your area. If it's possible, let the light in through your kitchen window by ditching heavy blinds. You might also even think about installing a new window, or a skylight.
Under cabinet lighting is increasingly popular, and adds depth to the entire appearance of your kitchen. You can install this type of lighting professionally, or add it as easy as putting an LED strip or puck on the underside of your cabinets.
Pendant lighting also adds a unique look to any kitchen. They hang over sinks and islands and provide a beautiful alternative to regular overhead lights.
The Way You Design It
If you're renovating your kitchen, the devil is in the details. Making sure you know where you want to put the plumbing and electrical sections of your kitchen are essential for designing your kitchen, especially if you're moving around sinks or lights. If you don't make a plan, you could miss necessary moves needed to make for a successful installation.
Knowing the dimensions of the appliances you plan to purchase is also very important. You're going to want to make sure you have the space for the types of appliances you want in your kitchen. If you're adding details like wood-overlay panels onto your fridge or giving your oven a hood, there's no room for error.
Your Appliances
You might think that just any old appliance can cut it. But there's a whole number of things to pay attention to when it comes to your appliances, like finish, material, style, and size. If you're getting something like an oven or a fridge at different times, you want to make sure that they complement each other instead of looking like different pieces that contrast one another.
Furniture
You might not think of furniture as something that you need for your kitchen, but it can actually complete the entire room.
If you don't always want an island in your space, but still think it would be a fun idea, get a kitchen island with wheels. You can move it around your kitchen or dining spaces for convenience. The entire time, it still acts as a functional and decorative kitchen accessory.
If your kitchen allows for space, an accent chair will also bring an element of coziness to the room. If you're looking to add warmth to a larger space, matching a chair with the rest of your kitchen decor is a great option to consider. Your bar stools could even be given extra cushion to make the space feel more comfortable.
At Reico Kitchen & Bath, we pay close attention to the little things that matter. After working on many kitchens from small to luxury and designing them just how homeowners want, we know the details that are going to matter. Don't go it alone when you're doing a kitchen renovation. Get someone who has an eye for all the little things to come and make your room complete.