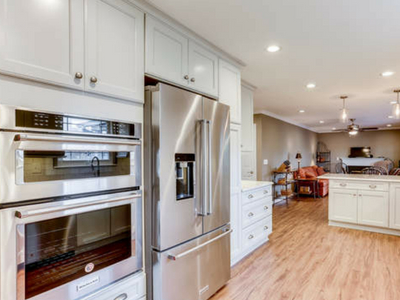 How long have you had your fridge? The answer is probably: too long.
Old refrigerators are often sucking up so much electricity that buying a new one would actually pay for itself by shaving money off your electric bill.
You can be saving a fridge load of money when you swap out your old fridge for a new one, but you can also majorly update the look of your entire kitchen. Your old fridge might be yellowy and outdated, and no one wants that eyesore in their kitchen.
Find out what type of fridge you should get to save you money and increase your style points all at the same time.
Fridge Styles
When considering which type of fridge to buy, there are a few main styles to keep in mind. Each has their advantages and disadvantages - it all depends on the type of kitchen you have.
Top Freezer
When you think of a fridge, you probably think of the top freezer - it's one of the most common types of fridges. A huge advantage of the top freezer? It's usually the lowest priced type of freezer out there.
If you're tall, you might find yourself having to bend down a lot when using your fridge. However, if you're keeping to a budget, this fridge is a great pick. It also fits into small kitchen spaces and still looks stylish, so can easily accommodate a kitchen that's tighter on space.
Bottom Freezer
Especially if you're someone who likes to cook more fresh foods than frozen, this is a great choice fridge to consider. You're definitely going to have to bend down to reach your frozen foods, but it's a highly efficient design to avoid having to bend down too frequently, while still providing food storage.
The bottom freezer design is slightly larger than most top freezers, so you can store a ton of food. They're usually a bit higher in price than top freezers, and are great for anyone with a kitchen that's traditionally sized and can hold the space it provides.
Side-by-Side
The side-by-side fridge offers a solution for slimmer kitchen spaces but doesn't limit you to the food you can hold. It's similarly budget-friendly to the top freezer, and most of these models are going to feature a built-in ice maker and water dispenser in the door.
These fridges have one of the smallest swing spaces required for any type of fridge door out there, so are great for small apartments or kitchens low one space.
French Door
The French door style fridge is the fanciest style fridge, with the most features and typically the most storage space. This fridge combines the style of the side by side fridge with the efficiency you find in the bottom freezer models. Opening one door at a time also creates the most energy efficiency you can see in a fridge.
This fridge is not the most suited for smaller kitchens, because those beautiful French doors tend to open wide and cause the need for more room. However, the fridge's ability to accommodate large quantities of food makes it an excellent option for kitchens with enough available space.
Time To Replace
Breathe a whole new level of life into your kitchen when you finally update that old, smelly fridge. You can combine function and style together to make one of the key elements of your kitchen work with the rest of your style. Find the best and most reliable fridges at Reico. Not only can we pick you out a fridge that perfectly suits all your needs, we can offer a consultation to make sure it looks amazing in your kitchen.