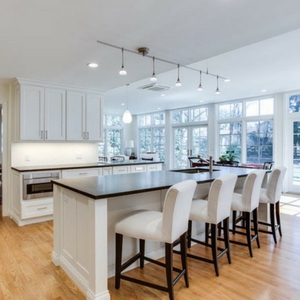 A kitchen remodel may be an exciting prospect, or it may feel littered with landmines. How are you supposed to get what you want without compromising your ability to sell your home later? Is it true that all remodels are basically wasted money, funds you'll never recoup on the sale of your home? Should you just give up right now, crawl under a rock and stop cooking altogether so that you never have to think about it again?
Yes, that one.
… kidding. Obviously, you have to move forward with your life, and it's far from true that remodels don't pay themselves back. But if you're going to spend tens of thousands of dollars on a remodel, you want to make sure you do it right. Here are a few steps to take and mistakes to avoid on that kitchen remodel.
Focus Your Energies in the Right Place
You might hate the color of your countertops, but given only a few thousand dollars, you better be spending out to replace your ancient yellowing fridge first. That goes for any other fix you might want to make: If you can only choose one or two things, choose the things that the majority of people will care about rather than pursuing your pet peeves.
Do Not Go Off the Beaten Path
Are old-fashioned cast-iron stoves adorable? Yes, yes they are. Does everyone want an old-fashioned cast-iron stove? No, they most assuredly do not. That's not to say you can't pursue a farm kitchen look. Classic copper fixtures, flagged floors and rustic wooden countertops are all beautiful additions to a kitchen, and offer that same cozy French appeal – without a stove that will burn the ever-loving heck out of someone's kid.
Don't Fail Safety Standards
Remember, your remodel must appeal to as many people as possible. Anything dangerous has the potential to be a drawback for families, which are a huge segment of the market. So is there an actual test for kitchen safety? No, so you just have to do your best. A few mistakes to watch out for include:
Dangerous stoves (see above)
Magnetic knife bars at kid height
Countertop corners at child head height
Slick tile
Raised strips across floor entries to disguise the transition from one room to another
Narrow walkways
Don't Remodel Your Kitchen at the Expense of Other Must-Dos
While everyone likes a lovely new kitchen, it's a mistake to put it first if you really need to get something else done. You won't get much for your home if a crummy roof has caused structural damage or a single bathroom is clogging up the works when guests stay over, so do what needs doing first, then focus on your culinary center.
Ask an Expert's Opinion
It's not always obvious what makes for a good remodel. If you don't have full confidence in your own color and material preferences (and most people don't, so don't worry), bring in an expert to help. An experienced kitchen designer can explain your options, recommend choices for maximum enjoyment of your kitchen today, and for its resale value later.
Have more questions? Please feel free to get in touch today and ask. Reico is committed to helping you achieve your kitchen desires and protect your home's value, so don't wait.