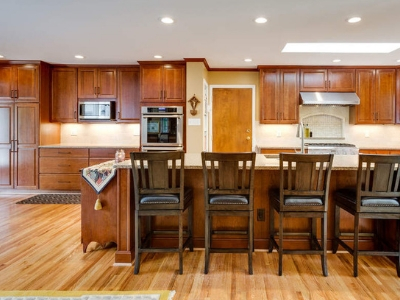 Step inside your kitchen. If you're not home picture it in your head. How's it looking? How does your kitchen make you feel?
If you had a less than a positive answer to those questions, then you probably already know something needs to change. Your kitchen should make you feel warm and relaxed. You should be ready to whip up a dinner or sit with a friend and drink a cup of coffee in comfort.
If you're feeling drab about your kitchen and that it may be time for an update, adding wood into your kitchen is the perfect thing to create the warm atmosphere you want. Whether it's homey or modern, wood detailing can establish just the vibe you need.
Oak Cabinets
Oak is rising, coming back as one of the most popular woods in kitchens right now thanks to new finishing techniques and easily stained wood. You can get it in most any finish, but red oak is what's making the strongest comeback across kitchens everywhere.
The detail of the grain of the wood is what makes it a beautiful choice. Wood can be cerused, which gives a rustic and weathered look to the oak.
If you've been working with faded or particle board cabinets, this is your time to upgrade. Wooden cabinets can come in any style, from traditional to Victorian to modern to classic. The oak will blend into any kitchen and boost its sophistication for years to come.
Ceiling's the Limit
Wood floors sound familiar. But what about wood ceilings? Wood helps soften up the look of a kitchen, so if your kitchen has an edge to it because of fluorescent lights or modern style, adding wood brings that down a notch.
So don't stop at the ground when it comes to the material. You can consider adding wood to your ceiling. You can get wooden beams that are exposed artistically to inject a rustic vibe throughout your area. Want something unusual? You can get wood log beams as accent pieces for your ceiling as well.
Countertops
Your countertop is going to be one of the sharpest angles in your kitchen. Soften up that square or rectangular shape by designing it out of wood.
Wood brings warmth to an area. Whether as the entire countertop or as a well-planned countertop accent piece, it can look super sleek when incorporated into a counter. It can be at the same time as modern as it is classic, a rare quality for any material.
Open Shelving
Open shelves are a great way for you to incorporate wood into kitchen design in a more subtle way.
If you have a lot of open space in your kitchen, you can fill it with wooden shelving that will bring a natural, welcoming vibe to a space that otherwise might have been sterile and empty. You can use those shelves as storage, or you can add flowers and other decorative elements as well.
Accent Pieces
Elements of wood can give that hint of warmth your kitchen needs. Add reclaimed wood for an even more rustic touch. You can get light fixtures with wooden accents built in, or accent your kitchen island with panels of reclaimed wood.
A kitchen backsplash can even be made with wood that's been treated to withstand the heat of the stove. Door frames, barstools, and tables all look great with the help of some wooden accenting.
If you're feeling inspired, calling Reico Kitchen & Bath is your next step. Schedule a consultation, and we'll help you get the kitchen update your space has been waiting for. You won't believe how much warmer your kitchen can be!