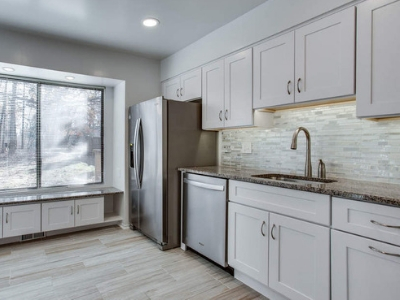 When you walk into your kitchen and take a look around, what do you see? Look a little closer. How are your cabinets doing? Are they looking a little shabby?
Good news. It doesn't take a lot to give your cabinets a makeover. When it comes to drawer pulls and cabinet knobs, you've got a lot of choices. Spruce up your kitchen and get yourself some new cabinet hardware. Cabinet accessories are jewelry for your kitchen.
The Color and the Finish
The colors of the door pulls or knobs that you choose can vary greatly, and still be a good choice for your kitchen. With white cabinets, a stark contrast of dark or black hardware can create intrigue for the eye.
Keeping the hardware on theme is what's going to bring it all together. A nickel or brass finish will look great if the same finish is applied to other appliances in your home. If you have to purchase hardware from more than one store, make sure that the finishes match each other.
If your kitchen has warm tones throughout, you can't go wrong with bronze, gold, or black as your color. If your kitchen leans more toward the cold or neutral color scheme, then silver hardware is a good complement. Metal accents also never fail to work in these spaces.
The Shape and Size
The shape and the size of your hardware should also stay on theme. Sleek and streamlined pulls are going to look great in a modern kitchen. However, they're not going to make sense in a Victorian kitchen or a country themed kitchen.
The handles need to be gripped easily. You should be able to fit four fingers comfortably into a pull. If your hardware is difficult to use, you're going to be frustrated time and time again.
It's also easy for hardware to overpower the look of a kitchen. Make sure it's not too showy, or it will become the focal point of the kitchen.
Knobs or Pulls
This is another choice that's up to what you want the overall look of your kitchen to be. For drawers, pulls tend to be more functional, but knobs also look quaint as well. For cabinets, either knobs or handles will brighten up the look of your area. In country kitchens and traditional kitchens, you will often find knobs on kitchen cabinets.
You should pay attention to the comfort level of the knob or the pull. Try them out before you make a purchasing decision. If any of the edges are sharp or the feel isn't good, ditch either choice.
No matter the choice you make, giving your cabinets hardware will immediately step up the look of your kitchen. It's an easy upgrade to make, and can make all the difference.
Think it's just about the time that you give your entire kitchen a much-needed facelift? We're waiting for your call. At Reico Kitchen & Bath, we're ready to take the look of your kitchen cabinets to the next level. Take the step to bettering your kitchen today. We can help.