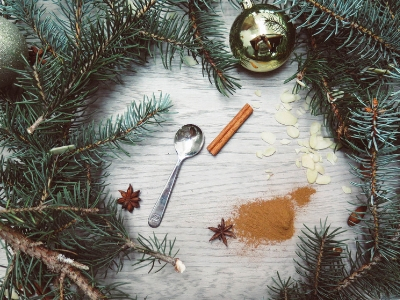 You've dreaded this moment since the day you started hearing Christmas music playing way too early. You know it's coming. The day you have to host a holiday party. And you're not ready.
It doesn't have to be this way. You can finally have a holiday dinner that doesn't make you wish it was just New Years already - at a party you don't have to host. Get your kitchen ready and actually enjoy hosting dinner parties again.
Plan in Advance
This seems like obvious advice. And it is. But we mean more advanced than you would think. In October, start thinking of how many guests you would like to have and if you have silverware and plates for them all. If you don't, you can start to prep extra early so you're not scrambling last minute, and you can actually enjoy yourself.
Dish it Out
Those serving tools are important, and you don't want to discover last minute that you desperately need something that you don't have. Polish up your silverware in case your in-laws are going to seriously inspect it. Sharpen your knives so that you don't have to struggle through chipping your meat and veggies.
Can openers, turkey basters, measuring spoons, vegetable peelers - the list could go on, and it could be different from the one you have in your home. Make sure all your gadgets are easily locatable and ready in advance
Add Some Room
Finding all your gadgets might be easier said than done if your kitchen drawers are all a mess. Part of the stress of preparing the Thanksgiving meal might be due to the fact that you can't wrangle your tongs out of your kitchen drawer and your pan is stuck in an impossible angle in your cabinet.
It's time to invest in new cabinets. You can get pull out cabinets that are not only much more simple to use for storage but let you store more things as well. And renovating your kitchen drawers to allow for more space and more peace of mind.
Have a Washing Plan
During the dinner itself, the plates start to pile up in the kitchen. That doesn't look great. On top of that, you're staring at that growing stack and thinking about how you're going to have to be the one that cleans those.
Have a clean as you go plan of action. Fill up the sink with dishwater so your dishes can start soaking. Have a pan full of water where people can wash the grime off their plates, and make your job a little easier.
Free up That Fridge
One of the best things about having a big dinner is the leftovers. But you can't store all those leftovers if you've got a packed fridge.
Plan all the ingredients you'll need in advance by carefully checking recipes so you don't have to go to the store last minute. Once you have those, you'll probably realize that you don't have that much room in your fridge. It's time to do a detox.
Go through and throw away all the things you can find that are expired - you know that means going through the sides and the back that never get touched. Then look at the rest of the food that's left over. Do you have condiments you're keeping just because someone in your house might finally decide they like horseradish? Yeah, it's time to throw the things away you know that you're really never going to end up eating.
If you've got a teeny fridge, this could be the year that you replace it and give yourself your own Christmas gift. You'll be able to make even more food, without feeling cramped.
Let us help you feel as prepared as you can for the holidays. We care that you have the best time celebrating your Thanksgiving with the people that you care about, and we don't think that you should have to stress out because your kitchen isn't ready.
Maybe you need a new kitchen layout altogether or you're just really wishing your cabinets fit more pots and pans. Those are all things that we can help with. At Reico Kitchen & Bath, we're ready to make your entire holiday season shockingly stress-free