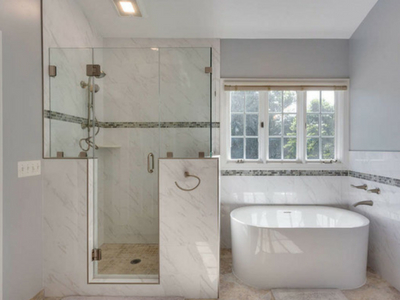 Why are people so afraid of doing bathroom remodeling?
We get it. Change can be scary. But is there anything scarier than your old dingy, tiny bathroom with the same decor you've been staring at for decades? Yeah, we didn't think so.
The good news about this scary situation is that you really don't have to be so fearful. Here's how to take the leap and get that bathroom design you've always wanted, but been too timid to try.
Work With a Design Expert
You don't want to feel like you're all on your own. And you don't have to. Working with a design expert can take the intimidating process of renovation and turn it into a fun, creative, and rewarding experience.
LindaRose Payne, design and remodeling expert at the Bethesda, Maryland Reico showroom, says that if you let her know exactly what you want in a bathroom, she'll do all the heavy lifting for you. She'll let you know what to do to make sure the process goes smoothly, and ensure that all the elements you're looking for can be achieved.
Managing a bathroom remodel should be done step by step, and an expert will walk you through the process. When you have someone working with you that's a specialist in their field, it can take away the uncertainty if you feel like you don't know what you're doing on your own.
Plan Ahead
Planning ahead is a huge step in eliminating the fear that can come with remodels of any kind.
Working with a design expert out the gate can really set your project on track and help you to know the whole picture. Trying to piece your remodel together one step at a time can easily become an eclectic plan that results in disappointment. Knowing the big picture sets you up for success.
By having a cohesive plan worked in advance, you can assure that your timeline, your budget, and your design are all realistic for the space that you have to work with, even building in a little extra for that inevitable surprise (trust us, there is always something). By creating a thorough outline from the start and speaking with experts, you can set expectations, plan your time and even save a little money.
Have Some Pictures on Hand
They say when you go in for a haircut that the number one thing you should do is take pictures with you. Well, the same goes for your bathroom remodel.
Pinterest is an invaluable tool to bring you visual inspiration when it comes to looking for bathroom ideas. Going through pictures of what other people have already done can spark a design element that you never even considered.
When you show the pictures you've gathered together to your designer, they can get a clear picture of what type of design you're looking for and discuss your options for getting as close to your goals as you can get.
You can explain the type of bathroom design you're looking for to the expert you're working with, but in this case, a picture is really worth a thousand words. Design is a visual process, and bringing pictures to the table will get you closer to the results you're looking for.
Work With What You've Got
If you've got a small bathroom space, there's no sense in trying to fool yourself into thinking you've got a large room to work with. Similarly, you need to know the right elements to work with if you have a bigger space to maximize the look of the room.
Small bathroom? No worries - we've got small bathroom design ideas on hand. Working with what you've got can also save you some cash. Keeping original plumbing where it is can keep the budget low because you won't have to relocate the sink, toilet, or other water utilities.
You can also dress up old bathroom furniture by giving it a new coat of paint. And a huge way to make any bathroom look instantly updated? Get a new mirror.
Calm Your Worries
When it comes to remodeling, anxiety over the process can often lead you to do nothing at all. Will you get what you want? Is it going to be too expensive? Will it take a long time?
Again, planning ahead is probably the number one way to alleviate renovation anxiety. A close number two? Working with someone who knows what they're doing that can hold your hand along the way.
Understanding how much everything will cost and knowing where to begin can also set your fears at ease. A designer can also tell you how long the project will take to complete - and you can hold them to that end date once you've communicated it with them.
Once you're done hesitating and finally decide to take that step and make your bathroom a better place, it's time to celebrate. Go get your bathroom planning guide started with Reico- you'll start to see your beautiful future bathroom unfold before your eyes.
We take all the information about your old bathroom into account, and then let you plan for the renovations ahead with careful detail. The next step is to sit back, relax, and watch your that bathroom you've always wished for, come to life.