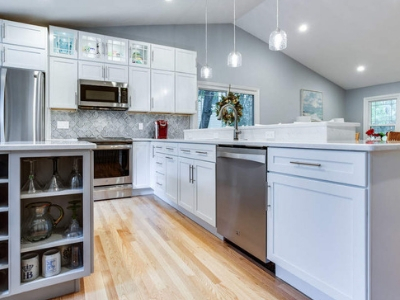 The kitchen is an intimidating place for some people. For others, it's where they go to make masterpieces. Whatever level of kitchen aficionado you are, everyone can agree they love food.
If you want to be a master chef, you need a master kitchen. Here are some ways to bring your cooking and your kitchen design to the next level.
New Countertops
If you have old, dingy kitchen counters, it's probably making your life in the kitchen much more difficult. If your countertops aren't durable, you can't use them for heavy duty cooking where you're going to be placing down pots and pans and trays. You also need a large prep area, and often counters serve this purpose.
Add a granite, quartz, or butcher block kitchen counter to your space, and they will hold up for years to come. They also don't require a great deal of maintenance and can be beautiful for serving up that food you've cooked as well.
Lots of Storage
When you're cooking a bunch of different creative dishes, you also need a large variety of different cooking appliances and tools. Which also means you're going to need a place to put them all. (Have you seen how much space those pressure cookers take up?)
Cooking in a cramped space can take away all the fun of it. You can design your kitchen with storage in mind when you ask an expert how to use your space as advantageously as possible. Laying out your cabinet storage with pull out areas for hidden storage and enough space for all your cooking and baking goodies is key to a stress-free kitchen.
A Big Sink
People say everything but the kitchen sink, but you're going to want a kitchen sink, and you're going to want it to be heavy duty. Pots and pans can't sit in a tiny sink, and cleanup shouldn't worry you when you're in the kitchen making your masterpiece. If you're cramped for space, you can choose a sink with a single basin instead of two to create more room by removing the division.
Quality Appliances
If your oven, stove, microwave, and other appliances are lagging, then you're going to lag, too. Get top-notch stoves and ovens, and your food will come out top-notch too. Depending on how old your other appliances are, you also might save some time because newer appliances heat your food faster and have much more variety when it comes to cooking options.
Open Floor Plans
If you have more than one cook in the kitchen, you'll want to discover an open floor plan. Not everyone has the luxury of always being the only person to want to do their cooking at one time. Creating open space in your kitchen can make the area more breathable not just for other people that might be cooking with you, but for you when you're using the kitchen alone, too.
Reico Kitchen and Bath can make all your food dreams come true. Your kitchen is ripe for cooking, but you just have to do a little remodeling first. Let the professional cook inside of you come out when you make those changes you've always wanted in your kitchen. All you need to do is consult with an expert, and let them design you the ultimate foodie's area.