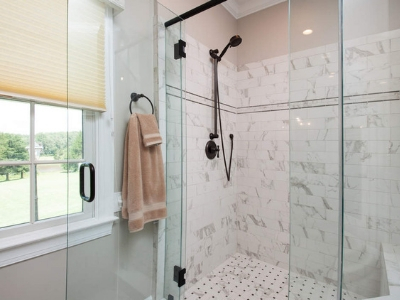 So you're in the bathroom squinting at yourself in the mirror and it dawns on you: your bathroom is just...dim. Even if your bathroom is large, when it's not bright, it can feel smaller. And that's the opposite of what you want.
But you don't have to be afraid of the dark. There are some surefire ways that can lighten up your bathroom and start your days off right.
Ask an Electrician
If you're in your shower and you're literally struggling to see the labels on your shampoo, you need to make a change. Putting in windows or a skylight to access natural light is the best option, but it's not always an option.
It might be time to talk to an electrician how you can light up your bathroom. Add recessed lights into the ceiling of the shower. It'll wake you up in the morning and let you see the difference between your shampoo and your conditioner.
Brighten up the Cabinets
If you've got dark paint, you've got a dark bathroom. Remodel your cabinets in a white or light wood color to change up the whole look of your bathroom. Changing the bathroom cabinets is a smaller job that can be done much more quickly with professional help. This mini project will have you wishing you did it sooner when you see just how much it ups your brightness level.
Change the Bulbs
Ah, what a simple fix. But you might not have actually thought of it. If you have bulbs with a more yellow tint, they could be muddling up the light in your area. Look for daylight bulbs or bulbs with cool colors that can help give the most output in your bathroom.
More Mirrors
Letting the light bounce off mirrors will help to up the brightness factor in your room. The wall above your sink probably already has a mirror. Add one behind you so you can see your whole backside and lighten up the look of the room. You can also pretend you've opened a portal to another dimension.
Pomp and Circum-sconce
Add sconces to the sides of your bathroom mirrors if they aren't lit well. Nothing is worse than trying to brush your teeth, apply makeup, or wash your face when you can't see the details. These task lights will help bring your bathroom to life.
Window Shopping
If your bathroom borders the outdoors, you've got options for letting your light in. Casement windows don't have to open all the way, but they can vent to the outside and let that light stream in. You'll feel more cheery and awake when you can see the outdoors in the morning. Natural light is hands down the best way to add brightness to the space, and this type of window will allow that.
And if you've got a little bit of a budget, you can consider getting a skylight in your bathroom to let all that natural light in. It's more of a costly fix but will work wonders on a bathroom that is looking worse for the wear. There's nothing that says luxury bathroom like a skylight.
Think that nothing can really fix that dreary atmosphere of your dim bathroom? We can. At Reico Kitchen & Bath, we solve what seems like even the most unsolvable of problems. We can turn that dark atmosphere around in no time with a little work when you tell us just what you want your dream bathroom to look like. Stop living in the dark. Schedule a consultation today.