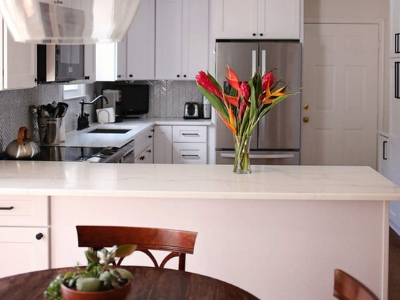 You walk into your kitchen, thinking about how you're going to prepare yourself a meal fit for a king. But then you actually get inside your kitchen. You look around and realize that your kitchen couldn't make a meal fit for a king, because it's too tiny.
Your kitchen might be small, but you can still make it feel like home. And you can make a luxurious meal in it as well. Yes, your small kitchen can be mighty! Here's how.
Get Some Texture
If you've got a little kitchen, you have limited space for any architecture that's going to open up your area. That's why you've got to create intrigue on your own. For example, you can use the same colors of cabinets and fixtures, but you can get a wooden countertop and glass cabinets to add interest to the eye, so the space has more to look at and feels more full.
Lighting also plays a part in texture. Layer your lighting to create a complex look in the room with task lighting and accent lighting. Getting under cabinet lights and toe kick lights can also help liven up the space and make it look bigger and brighter.
Space Savers
Decluttering your kitchen is key to making it look bigger and better. If you've got messy countertops, it's probably because you have no place to store what you need to store.
Kitchen cabinet accessories like roll-out trays, spinning spice racks, door and drawer organizers, and lazy susans can help you maximize on your space. The pull out cabinets can let you store almost twice as many kitchen gadgets as regular cupboards or drawers.
Space-saving appliances will also help you in your quest for a bigger kitchen. Getting a compact refrigerator can make your area feel much bigger. Appliance manufacturers are now offering space friendly appliances like dishwashers and microwaves, so you can maximize on all of your kitchen space.
Through the Looking Glass
A great way to add depth to a smaller kitchen is to incorporate glass into the area. Glass cabinets make a kitchen look like it has expanded, because you're looking inward into the space instead of wood cabinet blocking the view.
Create space by getting glass kitchen doors outside if you have doors to the outside in your area. That will open up the space and let the eye stretch out into the backyard. You can even get glass tile to add a spacious feel. Strategically place mirrors as well. A mirror against the backsplash or a wall can create the illusion of space.
Time to Renovate
There are small kitchens that are still perfectly functional, and could even be described as cozy. But then there are kitchens where you're cramped, bumping your elbows against things, and are constantly frustrated.
When your little kitchen is a place you no longer want to be, then it's time to rethink the entire area all-together. It's possible it's time for a complete kitchen renovation. You can work with a designer to open up the kitchen space and free up the area so you can move freely, and actually enjoy your time there.
Your small kitchen can still look like a million bucks. But obviously, you don't want it to cost that much. Reico Kitchen & Bath can turn your smaller kitchen into a big success, and do it for less than you'd expect. Don't hesitate on changing your kitchen for the better. Get cooking and contact and expert today.