Think about your kitchen. Are you always tucking in your elbows and trying to cram your pots and pans into the cupboards? And forget it if two people want to cook in there at the same time. There will really be too many cooks in the kitchen.
It sounds like your kitchen is too small. Well, it's time for you to renovate. Even a small space can be made into a very workable, luxurious area if you take the time and plan your area out just right with an expert kitchen designer. Use every square inch of your house to your advantage so you don't have to feel squished in your own home anymore.
Get Some Texture
If you've got a little kitchen, you have limited space for any architecture that will open up your area. That's why you've got to create intrigue on your own. For example, you can use the same colors of cabinets and fixtures, but you can get a wooden countertop and glass cabinets to interest the eye, so the space has more to look at and feels more full.
Lighting also plays a part in texture. Layer your lighting to create a complex look in the room with task lighting and accent lighting. Getting under cabinet lights and toe kick lights can also help liven up the space and make it look bigger and brighter.
Through the Looking Glass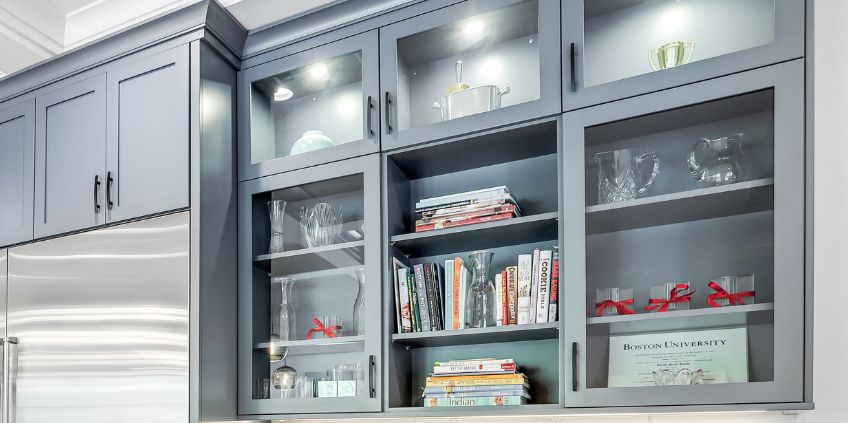 A great way to add depth to a smaller kitchen is to incorporate glass into the area. Glass cabinets make a kitchen look like it has expanded because you're looking inward into the space instead of a wood cabinet blocking the view.
Create space by getting glass kitchen doors outside if you have doors to the outside in your area. That will open up the space and let the eye stretch out into the backyard. You can even get glass tile to add a spacious feel. Strategically place mirrors as well. A mirror against the backsplash or a wall can create the illusion of space.
Layout Logic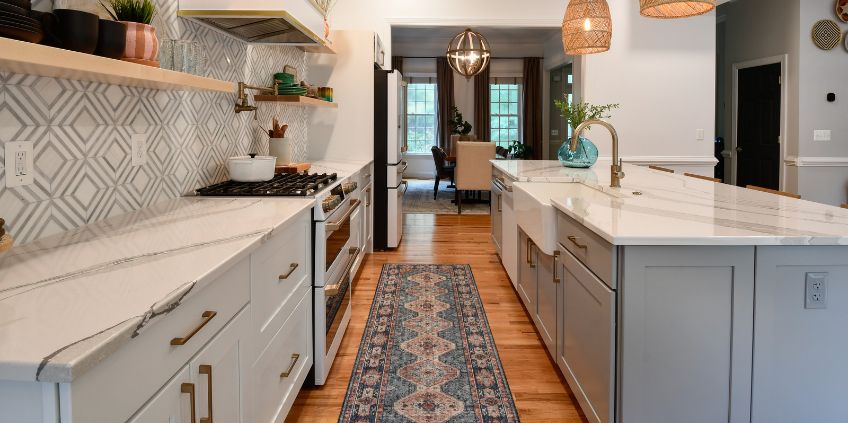 The No. 1 problem with your kitchen, as it is, is probably the layout. When a kitchen isn't working, it's often because not much thought was put into the workflow of the area.
A user-friendly kitchen works with your cooking style and the area's flow. If you use your oven a lot, a prep station placed to the right of it for easy reach can make a huge difference in functionality.
Looking for areas to add counter space onto your existing counter will make you feel much more equipped to slice and dice whatever you need. Don't let clutter take up these spots: It's all for cooking prep.
If your work triangle hasn't been considered, assess the placement of your sink, stove, and fridge. All of these components should be more than 4 feet from one another to allow for work, but no more than 9 feet away.
Transforming Tables
If you don't have room for additional counter space, you might want to look into transforming furniture. You can add tables that pull out from walls and shelves that drop down and fold back up into the wall when needed. They're easy to install and are often called "wall leaves."
You can add pull-out drawers from your kitchen counters that easily slide in and slide out when you need them. People can even use this pull-out counter as a place to eat their dinner.
Go Vertical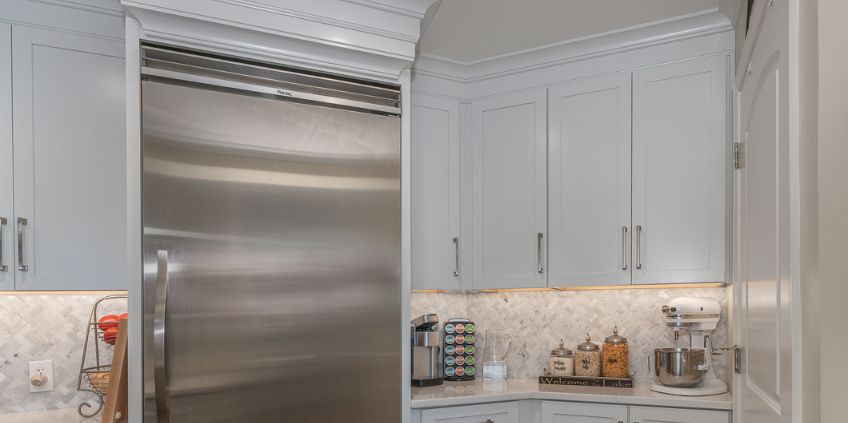 If you have no space left, then it's time to look up. You can make your kitchen roomier by adding organizers that use the vertical space that you have available. Ask a designer if you have room to add more cabinets in your space. You can also add open shelving to create more space for items that are getting in the way of your cooking.
Kitchen Cabinet Accessories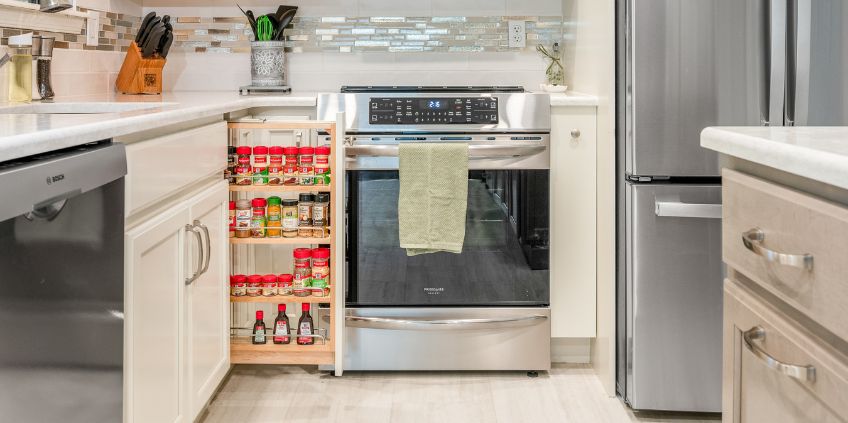 When storage is at a premium in your small kitchen design, make the most of it with kitchen cabinet accessories. Roll-out trays, drawer organizers, lazy susans, spice racks, door organizers, and more can allow you to do more with the space you have.
Even today's blind corners offer kitchen cabinet accessories that use more space and bring what you are storing straight to you. Or consider a combination pull-out drawer organizer and cutting board for a little more countertop and space for food prep.
Space-Saving Appliances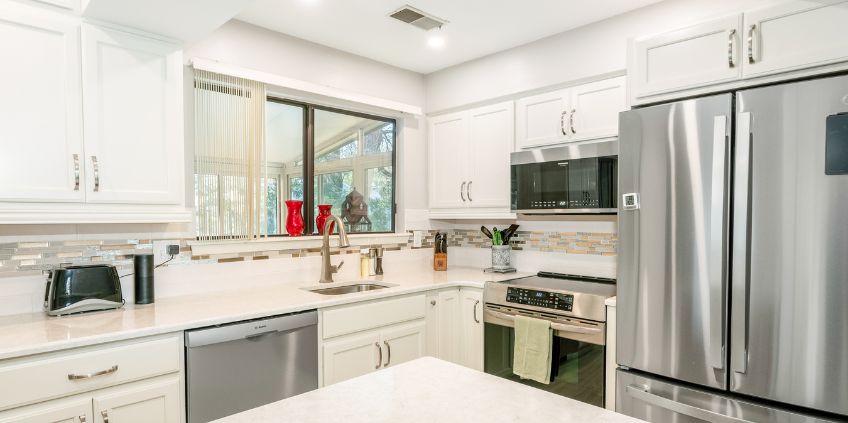 A small kitchen design often means fewer people to prepare and clean up for. And today's appliance manufacturers offer more options than ever that work well in a small kitchen design. From space saving compact refrigerators to dishwasher drawers, you can use space in your small kitchen design more efficiently.
Even full-size microwaves can save space in a small kitchen design when considering convection microwaves. Fit two appliances in one spot!
Once you have determined a budget, make your appliance selections first before starting any part of the design process. Space must be a bigger consideration when selecting appliances for a small kitchen. A pro-sized range may not be the best use of the kitchen space you have. A great idea for small kitchens is to combine appliances where possible to maximize the use of space. Convection/Microwave ovens or microwaves with built-in ventilation are just 2 examples of how you can do that.
Think About Design Requirements First
As you consider the placement of these appliances in the design phase, consider these critical design requirements:
Ranges should have at least 12" on each side, with one of those sides being 15" or more
In shared landing spaces for appliances, 12" of countertop should be added for proper spacing and usage
Landing areas next to Refrigerators should be at least 15" on either side of the handles.
Leave Work Space
Small kitchens typically are galley style, with cabinets and walls running parallel to one another or one wall of cabinetry parallel to an island or peninsula run of cabinets. Consider traffic flow through your space and be mindful of how much space you are allowing in the work aisles of your kitchen.
Allow for 42" for a single cook and 48" for two cooks to work simultaneously if possible. Anything narrow,er and you run the risk of unintended dancing with others in your workspace.
Use the Next Room
If you have open space in the room that borders the kitchen, you're a prime candidate for a function makeover. Add cabinets to this area to store the kitchen gadgets that you don't use every day. That way, you can open up space for the things you're constantly reaching for, greatly improving your functionality.
A Smaller Sink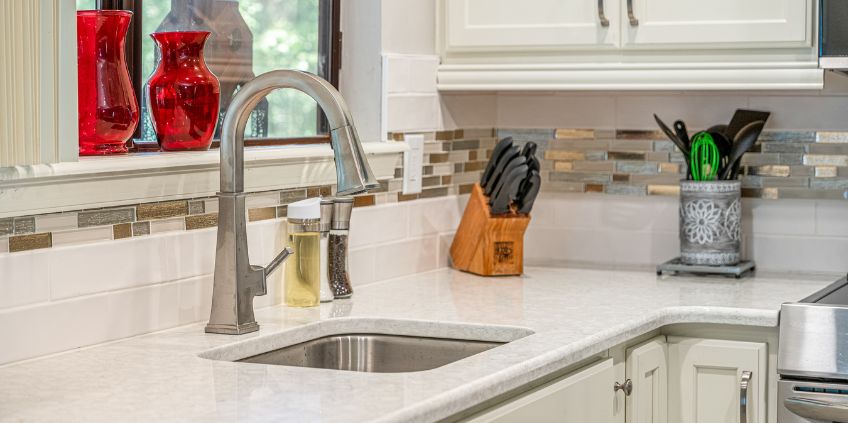 Do you ever really think about your sink? If you have a small kitchen, your sink might be the culprit. A huge sink could be taking up space that you could be using for food prep space. In a remodel, you can designate a sink to the corner of the room to free up your space or get a smaller design than the large industrial sinks that are popular, but not space efficient. Make sure your biggest dinner plates and favorite cooking pan fit!
Pull-Out Cabinets
Pull-out cabinets are life-changing for your kitchen if you don't already have them. If you're struggling for space in your kitchen to store all your pots and pans, pull-out cabinets are a no-brainer. Renovate your kitchen with new cabinets that can fit almost double as many tools as you could with regular, boring cabinets. You'll wonder why you never used them sooner.
You Can Still Have an Island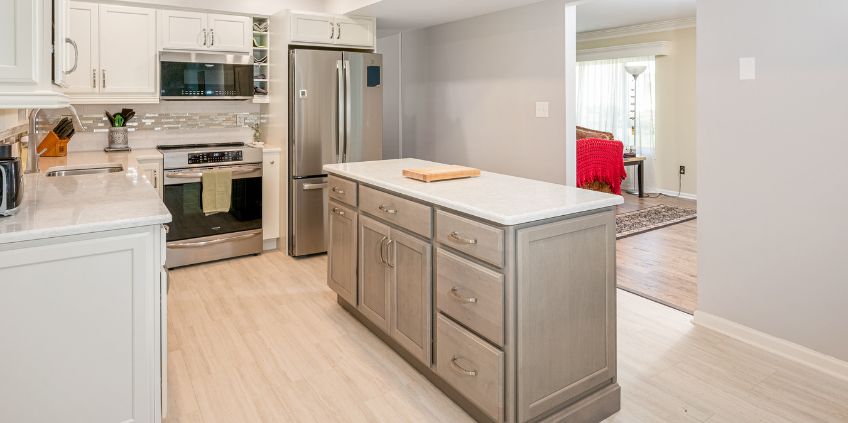 Think your kitchen is too tiny for a kitchen island? Think again. Just because you have limited space doesn't mean you have to sacrifice your dream island. It just might not be as big as you pictured it, but you'd be surprised how much work you can do prepping your food on even a small island. Consider changes to your overall kitchen layout that could accommodate the space needed for a kitchen island.
Pendant Lighting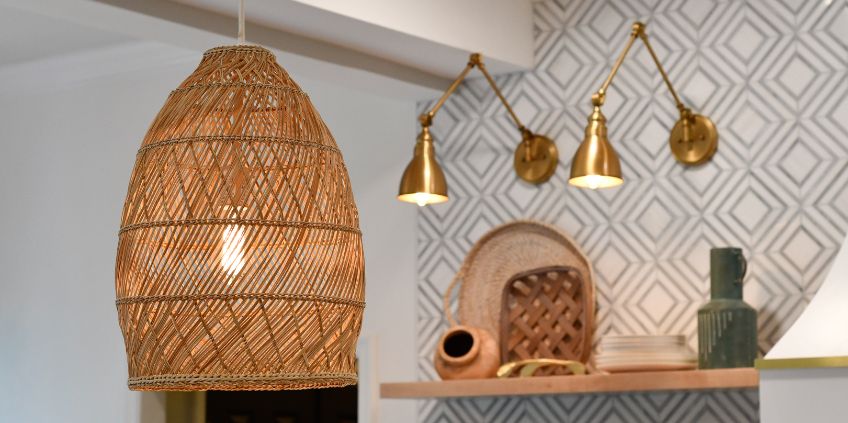 Pendant lighting is a bright idea that updates your kitchen, especially if you currently have old, outdated overhead lights that don't do anything for your kitchen. Adding natural light to space opens it up and makes the entire area look bigger. Pendant and undercabinet lights can help you achieve that look as well as provide much-needed task lighting, and dramatically improve the look of the entire kitchen.
Time to Renovate
There are small kitchens that are still perfectly functional and could even be described as cozy. But then there are kitchens where you're cramped, bumping your elbows against things, and are constantly frustrated.
When your little kitchen is a place you no longer want to be, then it's time to rethink the entire area altogether. It's possible it's time for a complete kitchen renovation. You can work with a designer to open up the kitchen space and free up the area so you can move freely, and actually enjoy your time there.
Your small kitchen can still look like a million bucks. But obviously, you don't want it to cost that much. Reico Kitchen & Bath can turn your smaller kitchen into a big success and do it for less than you'd expect. Don't hesitate to change your kitchen for the better. Get cooking and contact an expert today.