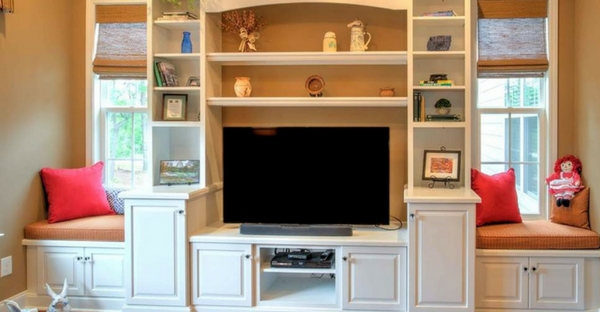 There was a time in the not-so-distant past when the phrase "more is better" actually made sense to people. We understand now, of course, that more of anything can become a problem. Most of us live busy, complex lives and simply adding more to the mix makes our lives feel cluttered.
The idea of living a less cluttered life extends to our homes and how we design and decorate the spaces where we feel most ourselves. In an article for HGTV, Barbara Jacobs writes that the most frequent request she hears from clients is to help them make their rooms flow. Jacobs says that she believes the "flow" her clients are looking for is a color scheme that works smoothly from room to room, tying the house together in a cohesive way.
Our minds crave continuity. As we walk into a room we automatically make a mental note of what we're seeing. Our minds attempt to take it all in, from the furnishings to the color of paint on the walls. The more our minds have to take in, the more stressed we feel. As we design those two most important rooms in a home – the kitchen and bath – it behooves us to do so with the intention of making them flow so seamlessly with the rest of the house that walking through the front door is calming.
Here are a number of ways to create a more spacious-feeling, cohesive home:
Choose your favorite color. Inspiration may be found in a piece of art, rug, or even a lampshade. The point is not to fill the entire house with that exact color but to thoughtfully find ways to introduce some variation of it into every room. Say you adore a particular shade of blue. You can easily create soothing spaces by pulling other shades of blue throughout the house. You can also include colors with blue at their base – like green or purple -- and add neutral shades, like gray, beige, ivory, and taupe. Quick note: if you're not sure which colors coordinate best with your original shade, check a color wheel online. The hues found on either side of your favorite color will easily blend.
Keep it simple. The reason many people don't make decorative changes is that it all feels so complicated. You can coordinate most elements of your home with very little effort. For example, change out hardware on drawers and cabinets one room at a time until they're all the same finish. Change light fixtures until they all appear to be from the same era (if, for example, you have an ultra-modern fixture in one room and Victorian in another) If every room in your house has a different color and texture of carpet, replace it as you can afford to. Each of our homes is a work in progress and it's okay to take our time.
Edit each room. In our excitement to decorate it is easy to overdo it. By including only the features we actually use in each room we organically create a more spacious-feeling, calming home. The best part of editing our belongings is that there is always someone who can use all that extra "stuff." Few things feel better than donating to those in need while simultaneously simplifying our own lives.
We understand that your home truly is your castle and since 1952 we've helped customers create kitchens and baths worthy of royalty. Give us a call today to learn more about what we can do for you.