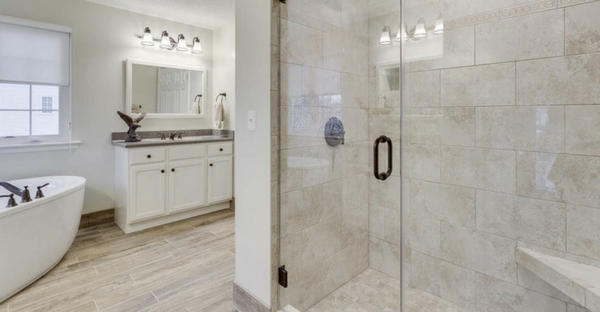 Redoing a bathroom requires making a thousand decisions, but none is arguably so impactful on the overall effect as tile. It is the foundation on which you walk and the covering that protects your shower. Frequently it also forms part of the wall or a backsplash around the sink. Your tile choices, in other words, have considerable bearing on your washroom's final look.
That makes choosing the right tile a pretty big deal. So what's a home bathroom renovator to do? We've got your answers right here, so check out this quick-start guide to choosing bathroom tile wisely.
Choose Your Tile Material
Tiles come in multiple materials, but the main ones are ceramic, porcelain, glass and stone. Each type has its own selling points. For instance, ceramic tiles come in a huge array of colors, since they can be glazed to almost any hue, but they do soak up moisture. Porcelain is far more impervious to water, while glass absorbs none at all.
Materials range from matte to high-gloss as well. For instance, travertine is fairly rustic-looking, while marble is shiny with bright veins running through it. Porcelain is glossy, and glass has a sheer, dazzling effect that makes any bathroom wall or floor stand out.
Pick Accent Tiles First
Many homeowners opt for accent tiles. These are unique panels, sometimes with a standout color or other times with a picture or design on them, that get scattered among the regular tile. If you want this effect, it's important to choose the accent tiles first, then choose a tile type that complements them for the rest of the room.
Choose Different Tiles for Different Areas
The types of tiles you choose will depend on what area of the bathroom they are intended for. Both bathroom floor and shower should stand up to moderate use, and you definitely want a water-resistant tile for the shower. Some people like to echo the shower tile behind the sink, while others use the same tile for floor and countertop. It's up to you, but make sure you don't just buy bulk tile when you really need to match it to its purpose.
Limit Your Color Scheme
Tiles already tax the eye with their repeating patterns and lines of grout in between. Because of this, you want to keep the colors to a minimum. At most, select a color for the floor, a color for the shower and an accent tile color, then stick to those for walls or backsplashes as well.
Get an Expert Opinion
Lastly, run everything by an expert before you start in. Even if you're planning to retile your bathroom yourself (which you should only do if you have experience), it pays to ask a professional what they think of your choices and whether they will work well for your room.
We are happy to be that professional for you. Simply give us a call today, request a free consultation, or head to our About Page to learn more about who we are and how we work. It's time to get the bathroom you deserve!