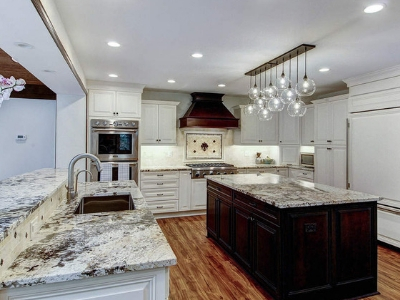 You spend meaningful time in your kitchen, making meals for you and your family or friends. It's the hub of your house. And chances are, it could use a little update. The kitchen is the most popular room to renovate. So why not renovate yours?
Before you start getting down to the details let's talk about the big picture. If you've never put a lot of thought into your kitchen, chances are it's not designed in a particular style.
Selecting your style before you begin your kitchen project will help you to create a clearer picture of what you want. You can share your vision with the people you're working with so that the appropriate are brought in to define your style and create your kitchen design.
Ready to consider your options? There's a whole slew of differently themed kitchens out there. Here are some of today's most popular design styles.
Country Farmhouse
Maybe you're stuck in suburbia or even the city, but you've always dreamed of a cozy country cottage. If you can't relocate your house, then you can bring the country to you.
Bring a farmhouse feel into your kitchen when you use warm, inviting colors like creamy tones and pale yellows. Everything in a country style setting is designed to make guests feel at home. Wooden cabinets in light to medium tone bring this look out, along with antique hardware and detailing in colors like blues and yellows. Earthy tones on the countertops tie the whole look together, like granite or marble in muted tones.
You can put your pots and pans on display in a country style kitchen, as the emphasis is placed on the culinary experience. That means you can also showcase your fine wines, french bread, and other cooking utensils.
Coastal
Maybe you like the country, but the beach trumps it all. If you're a fan of coastal living, you can bring those elements in your kitchen no matter where you live and feel like you're right by the sea.
This style uses shades of blue, green, and white to evoke an ocean-like feel. Wicker seating is a staple of this look. White cabinets can help play on the theme and make the entire kitchen look clean and bright. Your little details can be anything from shells to sea-themed kitchen utensils and blue plates.
You can even consider recycled glass countertops to really bring the vibe to the next level. That unique, stained glass look is a coastal element that lets your kitchen pop.
Old World
Bring back the nostalgia when you settle on an old-world design style kitchen. The emphasis here is on the craftsmanship of your kitchen, with a luxurious feel and texture to it. Deep mahogany finishes are king in kitchens highlighting this style. You can go with dark hardwood floors and rich tones on your cabinets.
Don't be afraid to go with heavy fabrics and high-quality furniture for your kitchen stools or chairs. It's all in the details, with bronzy hues and sophisticated touches taking center stage. You can consider getting ornate lighting details like a chandelier or hanging overhead lights.
Traditional
Traditional kitchens are what you think of when you think of grandma baking chocolate chip cookies. They're clean, friendly, and the kind of place you'd want to plop yourself down with a newspaper and drink a cup of tea.
The style is timeless, and you can play on it with paneled doors or glass doors on your cupboards. White, as a dominant theme, also lends itself to the style.
The decor is orderly and happy, often with a vintage feel that harkens back to a time when people would gather around the dinner table and talk about their day. The lighting is functional, and neutral tones span the area. This kitchen is a functional as it is fashionable.
Modern
Sleek and smooth is the name of the game with this style kitchen. Stainless steel countertops and appliances control the scene. Gone are the ornate details and intricate details. It's all about contrasts and simplicity when it comes to modern style.
Choosing one theme color to make a few vibrant pops throughout the kitchen can keep things interesting. Mosaic tiles are popular backsplashes for the modern style as well. It's luxury without the frills, so choosing dark, high-quality woods for cabinets and flooring can be a way to keep your kitchen sleek.
Another consideration? Transitional, where you combine elements of different kitchen styles to create your own unique look. Call Reico Kitchen and Bath now to help you develop an overall plan for what you want your kitchen to look like, and the style (or styles) you want to be a part of it.