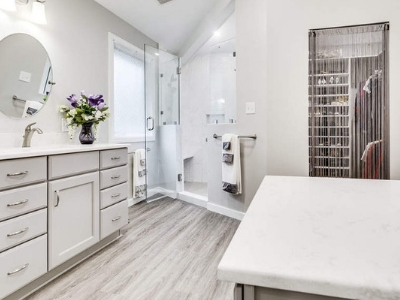 It doesn't even have to be around the holidays for you to have a wishlist. There are things that you want in your master bathroom year-round because you're going to be using your bathroom year round. Here are some things to keep your eye on if they're not already on your list.
Shower Bench and Handheld Shower
A handheld shower or a shower bench is a great addition to a bathroom for those who are looking to age in place. But it's not only just for convenience when you need a little help in your bathroom.
A handheld shower can help you get those hard to reach places when you're scrubbing down, but also when you're actually cleaning your shower. You can extend the showerhead when cleaning the tile floor and the walls by using water that might not have reached well before.
A shower bench is handy for those that need to sit when showering. It also helps if you want to multitask and have somewhere to put your legs while you're shaving or lathering up.
A Universal Design
What do we mean by a universal design? Stars and planets for the decorative theme? That would be cool, so don't mark it off your list entirely. But we mean a design that's accessible to everyone who uses the bathroom, universally.
An open design that allows people of any size or level of mobility to use your shower is something that can also help you age in place and increase mobility. A curbless shower does just that, and adding grab bars along the walls also helps.
Wall-Mounted Faucet
Gone are the days when you need your faucet to be attached to your sink. A faucet that's mounted on the wall makes your bathroom look ultra-modern. But it doesn't just streamline the look of your bathroom. It also makes it much easier when you're cleaning the countertops, because you don't have to clean around the faucet and handles anymore.
New-Age Toilet
If a new toilet isn't on your bathroom bucket list, go get your pen and paper and add it on. A smart toilet doesn't necessarily have to be a bidet, but if you want to go the next mile, a bidet can add a whole new level of luxury to your bathroom.
Heated toilet seats are the way to go. Why freeze your tush when you can have a perfectly heated seat? Another feature of an updated toilet is a dual-flush system that cuts back on water consumption, and a soft-close function where the seat will softly close itself instead of you accidentally slamming it down and waking up everyone in the house. A lighted seat is another convenient option that can gently guide you in the dark of the night.
Comfort height toilets are also something to consider and can be carried over into the universal design category as well. For someone who has more difficulty raising or lowering themselves, this option can be a huge help.
Heated Towel Rack and Floors
You get out of the shower, reluctantly. You go to grab your towel. And all that work you did getting yourself nice and warm is ruined because your towel is chilly.
Not with a heated towel rack. When your towel is slowly warming up on the rack, you won't have to worry about a cold exit from the shower anymore. It's a fairly easy item to add that will really up the luxury level of your place.
Heated floors can also add to the warm feel of your bathroom, and you don't have to worry about freezing your feet off when you step out of that shower.
Additional Storage
Ask mostly any person what they want in their bathroom and they'd tell you: more space! You need to store all those towels, toiletries, makeup products, and hair stuff. But you're always running out of room.
Depending on your bathroom, adding more room could mean an entire redesign. A professional can help you lay out some plans on how to get your bathroom more comfortable and functional.
Adding medicine cabinets can be a quick fix for someone who needs more room. Recessed medicine cabinets can also be an answer, and you can even install outlets inside of them to have a hidden place to plug in your shavers or hairdryers.
Got it on your list? Reico Kitchen & Bath can make those wishes come true. Contact us for a consultation on whatever item you're thinking of knocking off that checklist and finally putting in your bathroom. We can get it done without any of the anxiety that may have made you put off your dreams in the first place.