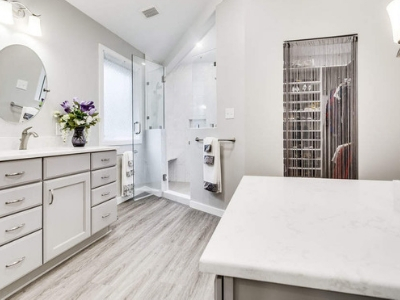 You've finally had it with your bathroom. It's time to redesign. Woo! The idea of designing a new bathroom for you and your family to be able to relax in is an exciting one. But it can also be an intimidating prospect when you realize that the possibilities that you have available to you are basically endless.
Once you start planning how you want your bathroom to look, everything will start to come together. You'll be able to communicate your design dream to anyone who's helping make your bathroom become a reality.
Keep it Efficient
Even though you might be redoing your entire bathroom, you can still be efficient about the design process. Your old bathroom floor plan probably had a one or two wet-wall layouts. Unless you're willing to completely redo your water lines and plumbing drains, you'll want to think about keeping the bath, shower, and sink relatively in the same place they were before. You can still redo them all, the fixtures just might not move too much.
But Shoot for the Stars
That being said, you can definitely rework your wet-wall design if you're going for a complete overhaul. You can even get a three-wall layout. With this, you can have your sink, toilet, and shower on completely different sides of the room. This is the most versatile design and allows for the most wiggle room with creativity.
Light it Up
Consider the lighting fixtures in your bathroom. Most people go for clean, natural light as much as possible. Place wall mounts on either side of the mirror in your bathroom (which is a necessity.) The wall mounts should be placed at eye level for the most optimal lighting in the room. Overhead lights should be crisp and bright enough for you to be able to apply your makeup or even shave without straining your eyes. Ceiling mounted fixtures bring the design up a notch, as well as accent lighting.
Statement Tub
If your area allows, get a freestanding bathtub. This can be the focal point of your bathroom, and make it seem like a fancy resort spa. You can get one with claw feet for an even more vintage look that packs a visual punch right from the get-go.
Or a Luxury Shower
Maybe you prefer a shower over the bath. For the peak of luxury, you can get a rain showerhead that makes it feel like you're not even in the shower at all, but basically washing your hair in the rain. You can also get a massage showerhead to get some of the stress out of your shoulders from all that hard work you do.
Also, consider the tile of your shower. If you want to install a statement material like marble, get a clear shower stall to show it if off.
Cabinetry
Getting your cabinets custom-designed to your bathroom can give it the final finish to make it look like a resort. Use cabinets below your sink for the most space-efficient design detail. Wooden cabinets give off a homey vibe, and metal streamlined cabinets can lend a modern effect to your bathroom area.
Amenities
They're not completely essential to the design of your bathroom, but amenities will let you live in the lap of luxury. Consider adding a television to the walls so you can relax in the bath to your favorite shows. A fireplace makes the area as cozy as possible, and heated floors can take the edge off of finally leaving your shower or bath.
Let the experts guide you on just what renovations would work perfectly with your lifestyle, your home, and your budget. We all need a little help sometimes, and Reico Kitchen & Bath can give you a lot of help, all the time.
Experienced designers will help guide you through the process and present you with all the options available to you. You can get advice and guidance on the one that's going to be the best fit for you, so you can have a bathroom you'll enjoy for the years to come.