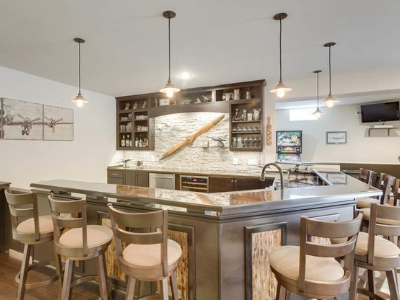 You love to entertain. And you've been entertaining the idea of getting a wet bar or a dry bar.
Your house is known as the place where people go to gather. Maybe you love hosting a small, intimate gathering. Or maybe you love to get a big group together and call it a party.
Whatever your style, an in-home bar is guaranteed to up your game. But first, you need to get the low-down on what kind of set-up is the best for you.
What's the Difference Between a Wet Bar and a Dry Bar?
Both a wet bar and a dry bar are made to make the process of entertaining at home much easier. It's an area within your home, typically with a large counter or bar, where you can prepare drinks and store your various types of liquors, drinks, and mixers.
A wet-bar is what it sounds like. Essentially, a wet-bar has a sink with running water. A dry bar only has a place where you can prepare drinks and no sink. The technical difference is just a matter of plumbing. But that gives them both pros and cons that should be considered.
When You'd Choose a Wet Bar Over a Dry Bar
Wet bars started gaining their popularity in the '70s when people were starting to let loose and turn their game rooms, basements, or outdoor areas into party spaces.
When you're preparing drinks, sometimes you need to rinse out the glasses you're using for another round. Or wash out that blender that you used to make margaritas. If you have a room that you frequently entertain in that's separate from the kitchen, walking all the way back to the kitchen to prepare more drinks can not only be a pain but take you away from the party.
A wet bar will help you be more present for your guests, and also be more confident to put more complex drinks on the menu. It will also make it more convenient for you to clean up spills, and clean the dishes in general.
Wet bars can be incorporated into basically any room that you want to use to entertain, and can be large and used as a focal point or hidden in a nook of the room.
The Benefits of a Dry Bar
The most obvious reason to choose a dry bar over a wet bar is the price. You're not going to have to deal with the potential of having to set up plumbing for a dry bar, so it makes the process more smooth.
Liquor cabinets have become increasingly popular, and using them along with a dry bar can be a winning combination.
Dry bars can be set up easily in most rooms. Sometimes, all you need is a little extra space and a convenient area to set up your favorite mixers and alcohol.
You've been dreaming about adding a wet bar or a dry bar to your home for a while, but don't know where to begin. Reico Kitchen & Bath knows exactly where to begin, and we can show you just how beautiful your house will look when you get your new entertainment area.
You're already known as the hostess with the mostest. Time to take it to the next level and serve up some drinks in style.