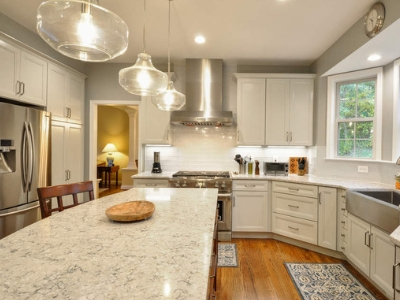 Your kitchen is where people gather. It's where people come to talk about their day, and, most importantly, eat. Like it or not, your kitchen says a lot about you. Is it saying what you want it to say? Bring out the color in your kitchen. Maybe it's already the color scheme you're going for, and you want to know what image you're showing off to the world. Or maybe you're about to find just the color match you've always wanted.
White
It's actually quite possible this is the color your kitchen came with and you just stuck to it. You're a creature of habit, aren't you? Maybe it's time to add some color to your walls and let your personality shine.
But wait - maybe you intentionally dressed your kitchen up in all white. If that's the case, then you're undeniably classic. You like things neat and orderly, and might even be a little bit of a neat freak.
To get a put-together all-white kitchen, don't be afraid to play with texture. It can speak to the area when color does not. White wooden cabinets and white marble countertops are the name of the game when it comes to a monochromatic color scheme.
Yellow
You probably won't be surprised when we say if your kitchen plays with elements of yellow, you're considered a bright, vivacious person. This is the color kitchen for you if you're always looking on the bright side of things and want to spread that cheer with others.
Yellow drapes and accessories with pops of color are a beautiful way to add that sunshine hue to your kitchen. Consider adding fun vintage elements like a yellow stove to your kitchen if you want to really commit to yellow.
Blue
Blue is super trendy in kitchens right now, and there's a chance you're super trendy too if this is the color you're rocking in your kitchen. It lends itself easily to a country-themed area and also to a beach theme, so you have a variety of options if you're looking to make a change.
Blue is the color of calmness, so you're probably a cool cucumber. It brings out a vibe of balance and stability throughout the area. Your cooking sessions are likely serene and therapeutic. Consider blue kitchen cabinets or even blue countertops.
Green
We've got another trendsetter on our hands. If your kitchen is brimming with earth tones, you like to promote peace and harmony wherever you go. And why not do that in your kitchen?
Green kitchens have a natural look. If you choose it for your cabinets, accessories, or lighting, you'll always be looking like you're trying to be one with nature. You'd probably rather be cooking over a campfire, but this is the next best thing.
Red
You're all about the retro if you have or are thinking about getting a red kitchen. It's bold and it's vibrant, and it's as cool as it is classic.
Red is a great accent color for any kitchen. Maybe you want to throw it back and get a red fridge. Or you're going for cherry redwood on your cabinets to use the color in a more subtle style. Either way, you're a firecracker with a bright personality that people can't help but notice.
Black
You minimalist you. You want everything streamlined, and you're all about taking charge. If your kitchen is mostly black, stainless steel appliances are a great match to the overall decor.
You probably already know what you want if you're the kind of person who likes a black kitchen, but in case you don't, think about using dark woods to finish off the look. Black marble is also an option for your island or kitchen counter to really pull the space together.
Whatever color is calling to you, we can help. Perhaps you want an appliance upgrade in a fun pop of new hues. Maybe you're just realizing that your entire kitchen needs a new 'do. Whatever kitchen remodel is calling to you, we can do it at Reico Kitchen & Bath.