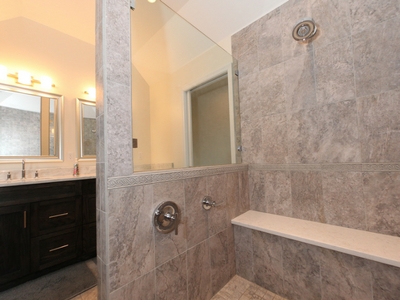 If you're dreaming of designing your bathroom with a spa-like aesthetic, then a wet room is certainly an option worth considering. Done proplerly, it can be easier to clean and offer a more protecte design solution than a standard full bathroom.
What is a Wet Room?
It's a bathroom where the shower is open or placed behind a single wall, and the floor space of the shower is leveled with the entire room, with the water draining through an opening infused into the floor. There is no tub, shower screen, or tray in a wet room. The complete room is tiled from the ceiling to the floor, and the natural level of the floor allows the water to flow down the drain. Although a wet room is now associated with a luxurious and relaxing experience, it actually was once an approach used predominantly in institutional and minimal budget areas to improve access.
Now that we have defined what a wet room is, let's explore some of the advantages and challenges of a wet room.
Consider the Advantages of a Wet Room Design
A wet room is great for a small bathroom because it opens the space, and makes the bathroom larger and more functional, a win-win for universal and aging-in-place designs.
As a second bathroom, a wet room can instantly add value to your property because spacious bathrooms are selling perks for prospective buyers.
By making the entire room waterproof, you reduce the proportion of floor space utilized just for passage.
With the additional space, wet room styles allow for ample shower space, usually designed to make the tub the focal point and create the layout of a luxury spa.
If built correctly, wet rooms are fairly easy to clean and maintain.
The tiling in a wet room allows you to experiment with multiple designs and colors.
Consider the Challenges of a Wet Room Design
The biggest challenge with a wet room is that everything can and will get wet. It can also get very humid.
To keep specific items and areas dry, it's important in your design to plan out placement for the towels and the lavatory. For example, in a 5'x8′ bathroom conversion to a wet room design, the toilet can be designed on the wet side of the screen or curtain so it also serves as a shower seat.
To ensure the toilet and its toilet paper remain dry, you can use shower curtains and paper holders with covers. This is important...no one wants wet toilet paper!
Keeping the water within the opening of the room also presents a challenge. While level entry is suggested, the threshold can be raised no more than a half inch for smaller spaces. Installing a second drain close to the entrance is also helpful in your design planning.
You will need an expert fitter to waterproof the room. Leaking water can lead to damage if not done correctly.
A wet room offers endless design possibilities, but it calls for careful consideration and professional installation. Request a consultation with a Reico Showroom Consultant to effectively plan your wet room design.
For more inspiration, check out Reico Bathroom Designs.