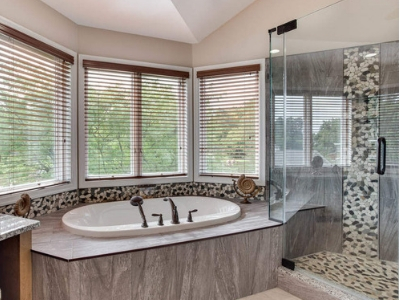 What style is your bathroom? Possibly a more relevant question - does your bathroom even have a style?
If you answered "I don't know" or "no" to those questions, then it's time for you to put a little more thought into the place where you do your business. After all, your guests do their business there too, and you want to have a nice relaxing shower or bath in a place that actually looks nice.
It's not fair to your bathroom to neglect it. See which bathroom style fits you best.
Classic
Classic styles are just that: classic. What do we mean by that? It's what you think of when you think of a bathroom.
You're looking at traditional designs that will never go out of style. Muted hues that match with everything, simple yet functional appliances that dutifully do their job and aren't too flashy. Black and white is a common theme that appears in classic bathrooms.
An overall balance is what will define your classic area. Wood furnishings are made to last, not necessarily to match trends. Don't go too crazy with patterns - you're looking at the bold basics here.
Country
This style is the epitome of cozy and classic details that make a person feel like they've stepped back into a small town countryside. Wooden floors are welcome in this style, along with accent items like a pedestal sink.
Country style fabrics are often patterned with florals or plaids. As a rule of thumb, the more personal the touches, the more country the place is. If you have a bathroom that's big enough for furniture, add pieces with cushioned backs and gentle frames. Pillows add even more of a homey touch.
Mason jars reign in country style. They're a simple and cost-effective decoration that you can personalize to fit your style. Add flowers or any type of ornament inside and place it on a bathroom shelf.
Modern
Modern style is all about being as sleek as you can be. Clean lines, an emphasis on geometry, bold colors, and a lack of clutter all contribute to modern style elements.
Black and white are often the most dominant colors when it comes to this style. Allow yourself an accent color that you can use in your accessories.
Your appliances are likely going to be made out of some type of metal or stainless steel that lends itself to a streamlined look. Textures take center stage in modern style, so the materials you choose have to speak for themselves.
Chic
Chic bathrooms are just one touch away from the traditional country style. They have that similar quaint and friendly feel but add a more lived-in and comfortable look to the environment.
Think country, but with even more rustic elements. A weathered stool that matches the decor can really cinch the look or an antique bathtub. Shabby chic color combinations are often light and pleasant. Think yellows mixed with white and cream colors. Pink and white are also popular with this design.
If you want a vintage and welcoming feel to your area, this is the way to go.
Beach
Maybe you live in a beachy area and this style seems like a given. Or you're completely landlocked, and you want to give your house a little touch of the shore.
Incorporating beach elements into a bathroom can work wonders for the style. It can make it seem all parts modern, inviting, and homey at the same time. Yellow and blue are common starting colors, which add a cheery tone to the atmosphere.
Decor with different shades of blue and green dominate the environment. If you're going to go for beach decor, add your favorite types of shells to the detailing of the bathroom. Seaglass is another common element you might want to incorporate into smaller decorations, or even consider reusing to re-design your countertops.
At Reico Kitchen & Bath, we're the bathroom experts. If you see a style that catches your eye, talk to us. We know how to walk you through step by step so that you can achieve the bathroom that you've always wanted. Or, maybe just realized you always wanted. No matter how big or how small the bathroom, we've got individualized solutions for you that will take your space to the next level.