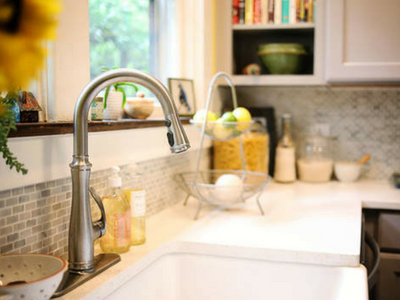 If you want a simple and easy way to makeover the entire look of your kitchen, look no further. Your countertop is the centerpiece of your kitchen, and the workhorse where you prep all your food. It deserves a little extra love.
Get the lowdown on each material you can choose from for your countertop. The different materials all perform differently and work for different budgets.
Concrete
Concrete countertops are a newcomer in the countertop scene. The concrete can now be produced to be light enough to be functional in a kitchen and can be manufactured in a broad spectrum of colors.
Unsurprisingly, concrete countertops are highly durable and very difficult to chip. They also offer a high level of customizability, so if you have an unconventional kitchen, this is a good option to consider. That tends to make them lean toward the more expensive end, but they'll last the test of time. Sometimes, these countertops can be seen as looking more industrial, but if you choose a nice finish and color, you can avoid that problem.
Concrete countertops give you a variety of finishes - you can get pebbles, sand, or other materials of choice sealed under wax to give your counter a unique feel.
Granite
Granite is a natural stone, and these countertops give any kitchen an elegant look and feel. This beautiful countertop material does require some maintenance, as it can chip and wear, but offers a gorgeous finish that can't be replicated by any other material. These countertops will last up to five years or longer without needing any repairs.
They're scratch resistant once they're sealed and do well with heat. When looking for a granite countertop, you can choose from the natural colors of the stone, like granite with red or pink highlights or black veining. They have reflective and smooth finishes that give them that finishing touch.
Laminate
Laminate countertops are some of the most budget-friendly countertops. They're made from particle board cores with plastic that's laminated and bonded over the top. They come in the largest varieties of patterns and colors because they're man-made, but they can be produced to replicate the look of higher quality countertops, like granite or marble.
These countertops can be scratched easily, so if you're going to do any cutting on your counter, you'll need a good cutting board. They're very easy to clean because they're not porous like other options.
Marble
Everyone knows that a marble countertop adds a regal look to a kitchen. Marble is difficult to match in beauty, although it can be very costly. Each marble countertop is one of a kind, and you can choose from a wide variety of colors - whites, yellows, greens, and browns - each is natural to marble.
Marble table tops tend to be more porous in texture, so require regular cleaning. They also must be sealed around once per year in order to keep in as good of shape as possible. They're extremely heat resistant, and you can choose them in matte or polished styles. Over time, they wear with a light patina, which gives them an antique style.
Quartz
This is one of the most popular countertop options out there because of its durability and the large number of options it has for appearance. They're engineered stone countertops made from quartz crystals, and can be manufactured in whatever color you're looking for to match the decor of your kitchen. You can also choose the pattern of the quartz that you're looking for.
These countertops don't need to be sealed, whereas other natural stone countertops do require a sealant. They're highly chip-proof, while not as heat-proof as options like glass or granite.
Recycled Glass
These are some of the most unique countertops you can choose from, and provide a quirky, custom feel to any kitchen. They're extremely heat and stain resistant and good for the environment. You can create a retro or a modern look - these countertops are often custom made, and you can choose any color glass or pattern you'd like.
When using the counter, depending on the finish of the glass, you might have to be careful about wear or tear or fingerprinting. They require sealing but otherwise are a beautiful and unusual way to decorate your kitchen.
Solid Surface
Solid surface countertops are made from synthetic materials, intended to mimic the look of more expensive natural stones. Because of this, they're more affordable than the actual stones themselves. They're a higher quality than laminate countertops as well, and very durable.
They come in a variety of colors and styles for you to choose from and are non-porous, which makes them easy to clean.
You also don't have to seal them, because they're not actually made of natural material. All these factors combined make them a popular choice for someone on a budget still looking for a classic option. They can come in any shape or size, and are nearly seamless in appearance.
Stainless Steel
Stainless steel countertops are undeniably unique and beautiful and can match with your fridge and other appliances if you've opted for stainless steel there as well. They give a home a modern feel while being extremely durable. You'll want to use a cutting board on this countertop, though, because the steel will cause your knife blade to dull.
These countertops are not cheap, but they can withstand any cooking challenge you put your kitchen through. They're exceptionally easy to clean and often used in professional kitchens.
Wood
Wooden countertops give your kitchen a warm, relaxed feel. They produce a country vibe and are a beautiful choice for someone who loves organic elements in a home. The wood must be chosen carefully in order to make sure it's of high quality and can withstand cooking and cleaning.
These countertops are expensive, but also a green building material. They're also durable and only need to be resealed every few years, and are very easy to clean.
Whatever material you're considering, an expert opinion can help. Get a consultant from Reico to go over all your kitchen options with you. Your dream kitchen is just a countertop away.