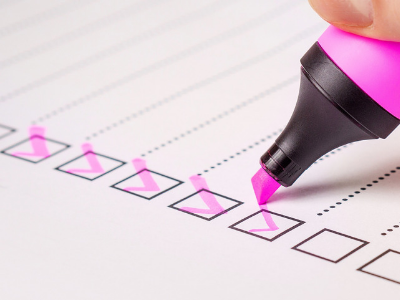 A bathroom renovation is exciting. You're ready to jump right in. Enthusiasm is great, but before you get started, there's a lot of planning that needs to happen first. If you want your project to turn out just the way you've always wanted, then you can follow a few simple steps to make sure you're getting the best possible renovation you can.
Budget
The first thing to hammer out in your checklist is a comprehensive budget.
Write each thing you know you're going to want in your bathroom down line by line. You can't get the actual exact amount of what everything's going to cost, but estimating is a helpful way for you to get an idea of your project. When you're looking at a checklist of everything written out very clearly, you'll know what to expect and what you might want to add or take away.
Time
Another thing that you can't get the perfect estimate on is time. But you also do need to estimate it. If your bathroom is going to be out of commission for a month, you have to plan accordingly. When you can write down the timeline of your project item by item for how long it should take, then you can more clearly begin to see the bigger picture. Floors? New countertop? Lighting? Each thing is going to take time. Ask your contractor specific questions.
Speedbumps
Of course, there are always speed bumps that come up along the way. Perhaps your plumbing needs to be worked on or a part that your heart is set on is on backorder. In your checklist, account for some extra time where an inevitable delay comes up.
Design and Function
Write down what style you want your bathroom to be. Modern? Classic? Farmhouse? When you've got the style down, you can write down specific elements you'd like to include. A standalone bathtub? Add it to the checklist. You also have to make sure each of your specific elements works with the function of your bathroom - another thing you can consult with your designer about.
Lighting
Are your overhead lights not cutting it? You'll want to revamp your lighting, so you should add it to the checklist. In cabinet lights? Task lighting? These are all things you can consider and think about when creating your bathroom.
Walls and Flooring
You've got a lot of options in this department. Write down all the types of floors you're considering. That way, you can see them laid out in front of you. You can narrow it down by crossing them out when you're closer to making a decision.
The same goes for walls. What kind of backsplash and material are you going to use? Once you've decided, having it solidified and written down in you checklist can help you stick to a choice.
The first thing that should be on your checklist for a bathroom remodel? Calling Reico Kitchen & Bath. We can help you from the planning stages to the unveiling of your brand new bathroom. So if you're having trouble making a checklist, let us help you. There's nothing we love more than seeing someone's dream for their bathroom come to life.