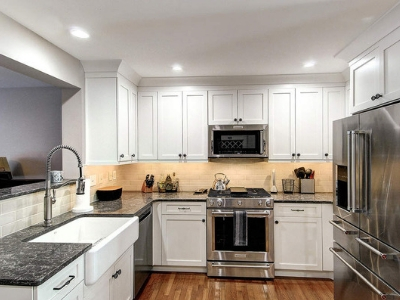 What's cooking in the world of kitchen renovation? We can boil it down for you.
There are always trends that sizzle a little more than the others. You can get inspired but what other people are putting on the table in the kitchen to see what you want to copy for your own home renovation.
Houzz conducted a study of 1,337 U.S. homeowners and asked them about their recent remodels. We're picking up what they're throwing down.
Going High Tech
As technology improves, so do kitchens across the country. When it comes to faucets, 57 percent of owners who recently upgraded their kitchens went high-tech. Touch-free activation, water efficiency, and coating that repels fingerprints are among the features that they installed.
Black stainless steel appliances, while not being particularly more high tech than the others, make their way into one in ten kitchens that were recently upgraded. Their sleek modern look plays into the technology vibe the kitchens have going for them.
Aging in Place
People 55 or older who renovated their kitchen did so to adapt it for aging in place. 37 percent of them made their kitchen more suited for people with advanced needs.
Kitchens were opened up and made larger so that the danger of sharp corners was less prevalent. Lighting was improved to make tasks more visible. Wall ovens and cooktops make cooking easier for someone who isn't as mobile as they use to be.
Shifting Styles for Finishes
Kitchen styles are seeing a shift in trends. Transitional style still reigns at the top, with 21 percent of the newly remodeled kitchens reflecting it. Transitional is a kitchen style that borrows elements from the past and mixes it with modern, contemporary features to create a little bit of both worlds.
Contemporary style is quickly on the rise at 15 percent, with farmhouse style a very close 14 percent behind. More and more homeowners are looking to mix styles and borrow elements from each to create something unique to them and their own tastes.
Engineered Materials
Engineered quartz dominated all the other countertop materials used in kitchen renovations at 48 percent. All the other stone materials combined only added up to 43 percent. So if you want to get what's skyrocketing in popularity, engineered quartz is the absolute way to go.
Engineered flooring is also having its heyday. Materials like vinyl, laminate, and engineered wood are now twice as popular as natural hardwood floors, with 40 percent to natural hardwood's 24 percent.
It's your time for a kitchen renovation. You can get what's hot in kitchen renovations right now, or you can also be a trendsetter and blaze new trails. It's all up to you. But you can't do anything without contacting Reico Kitchen & Bath first. We'll help you design the kitchen that you've been daydreaming about, and see it through from start to finish.