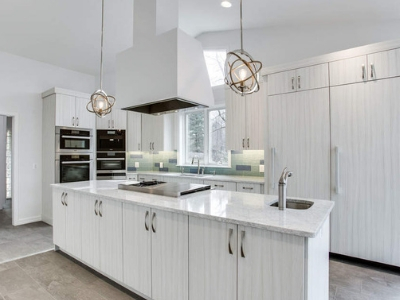 When you walk into your kitchen, you should feel at home. You should feel warm and happy with what you see. So if you feel like you're lacking that sparkle, then you need to get it back.
The kitchen you cook in and eat in is a kitchen you deserve to love. Add the love back into your kitchen with some updates that are trending right now.
Big Backsplash
Gone are the little accent backsplashes that are barely making themselves known. Backsplashes are taking their place back in bigger and bolder patterns. If you want to update the look of your kitchen, give your backsplash a renovation.
In some cases, backsplashes are getting removed entirely. They're being replaced by floor to ceiling designs where the kitchen is covered in tile or unique materials like marble and quartz. Pumping up your backsplash can add some boldness to your kitchen.
Cast Iron
Your cookware isn't just cookware. It's also a highly functional decoration. If you've got pots and pans hanging in your kitchen, it might be time to switch it up.
Cast iron is making a comeback. You probably have always had one nice cast iron pan hidden away. Get a whole set and display them in your kitchen. You'll make both a design statement and a statement of what a great chef you are. We don't recommend hanging them though!
Open Shelving
Open shelves are huge right now, and for good reason.
Not only do they give you an opportunity to create space and storage where you didn't have it before, but they're super easy to set up and install in your kitchen. They're also very friendly on your budget.
Instead of hiding your gadgets away, put them on display in an aesthetically appealing way. You can show off your style and make space for yourself when you add these to your walls.
Dark Colors
Kitchens are getting moodier across the board, and we love it. White on white has been a tried and true kitchen aesthetic for so long, that designers are starting to break the mold.
Cabinets in blue are reigning supreme, the darker blue the better. Moody blacks and greens are getting painted across the board. Brass handles and stainless steel cabinets also add to the mood. If you want to instill a vibe into your kitchen, go darker or add elements of to complement the other colors of your space.
Sustainability
Eco-friendly kitchens are all the rage. Wood and granite are long beloved kitchen materials, but people are looking for more earth loving options. Bamboo floors and cork backsplashes are finding their way into kitchens everywhere. Creating an earthy, natural vibe is a surefire way to make yourself feel comfortable in your kitchen.
Let Reico Kitchen & Bath guide you on what trends will look the best in your new kitchen. Imagine what your kitchen could look like!