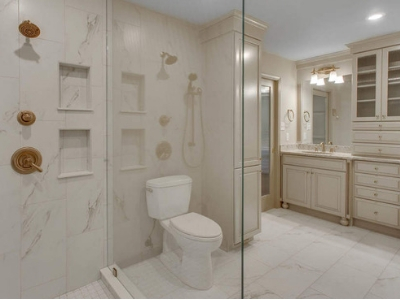 You get in, you shower, you flush, you get out. Your bathroom is a place where you perform your daily habits, but you should also be able to enjoy the time you spend there. Since it's going to be where you start and end your day, it should be the best it can be.
Go for a Soak
Sometimes you need a little extra stress release after a long day (or any type of day). Find that relaxing time you're looking for when you fill up your tub with some hot water and take a nice long soak.
Get some reading done at the same time without having to worry about dropping a book in the bath by using your e-reader. You can drop that in too, so get yourself a plastic baggie and zip it over your device. Now you don't have to fret, no matter how clumsy you are.
If your bathroom doesn't have a bath tub at all <gasp> ...it's time to consider changing that. You can get a freestanding tub if you've got the space, or convert a smaller shower into a bathtub and shower combo.
Get Extra Storage
We know the struggle - your bathroom is small. There's a number of mini hacks you can use to make the most of your space.
Use coat hooks instead of towel rods to add more towel-hanging options throughout the room. You can also add an extra shower curtain rod across the room and use it to hang extra storage bins.
Build a shelf around your toilet maximize your available storage area. Or add a stacked plate holder to utilize some vertical space you may have available.
Pull Out Drawers
Along the lines of creating storage, adding pull-out drawers to your cabinets can work magic on your entire bathroom. The added space and ease of access will save you a few (or a lot!) of gray hairs in the long run, and not just because it will help keep your hair dye in easy reach.
It will also eliminate the clutter from your space. You can breathe easier and feel more relaxed when there aren't extra doodads covering your vanity tops. It is a small feature that can make a big difference.
Back of the Door
Some very accessible storage has been hiding in plain sight this entire time in your bathroom. You probably didn't even know it! Use the back of your bathroom door for hanging up anything that needs to be hung up, and free up extra space for your bathroom.
Hang towel racks along your door. Depending on space, you may able to fit as many as three of them if you put them at the top, middle, and bottom. If you often leave your bathroom door ajar, no one will be able to see what is hiding there. You might even consider adding a storage rack to the back of the door to hold a hairdryer or other items you struggle to find room for.
Mirror Mirror on the Wall
If you haven't updated your bathroom in a while, your mirror might be the place to start!
A big mirror in your bathroom is great but not if it's improperly framed or not framed at all. Simply adding a frame around the mirror can completely transform the look of your bathroom and make it look finished.
If you don't have a mirror at all or a very small one, adding size to the mirror can give the room the perception of looking bigger. While you are at it, see if you can combine that mirror with a recessed medicine cabinet. With the right available space on and behind the wall, you can get size and storage while keeping the bathroom open by recessing the cabinet into the wall.
For all your bathroom needs, Reico Kitchen & Bath is on standby, waiting to help. Whether it's a picking new tile for your floor or a small hack like adding accessories or other storage to the bathroom, we've got experts ready to consult with you. Stop just "making it work" and give yourself the bathroom you deserve.