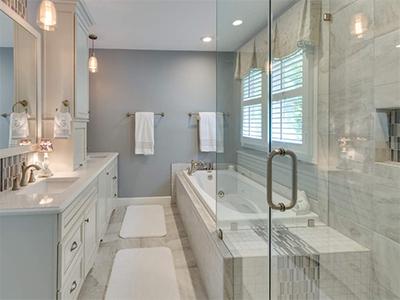 Yay! You are finally going to remodel your bathroom. Congrats! By taking this step you are adding value to your home, not to mention giving yourself the bathroom you have been wanting for so long. But then reality sets in. You start to ask yourself... What type of lighting am I going to need, or use? What is the color scheme going to be? How much space is required for a new toilet, and where else is the sink going to go if I really want to mix things up? Oof, that escalated quickly. Bring on the headache.
At Reico Kitchen & Bath, we know that your bathroom remodel should be less about the headaches. That is why we are here, to do the work for you and bring you expert tips to make remodeling your bathroom easier. Headaches will happen. It is a remodeling project for goodness sakes. But here are some tips to focus on less on the pain and way, way more on the gain!
Know the Cost Up Front
Perhaps one of the most stressful things about a bathroom remodel is the fact that the price can be up in the air until you really start making decisions on the scope, products and design. Nailing down the price of your bathroom remodel starts to help make everything seem much less daunting, and can help you feel a lot more prepared for what's to come.
To estimate how much your remodel will run, you need to create a clear picture of what is going to go into it. What products and materials will you be using? How big is your bathroom? How intensive is the remodel going to be...a straight pull and replace or a redesign to create your dream bathroom? These are all things you can discuss with your designer to help you answer.
Light it Right
Expert tip? The best lighting you can create in the bathroom is layered. This means a combination of decorative lighting, ambient light, task light and accent light. Properly layering influences your mood as much as it allows you to see what you are doing. This is another very important discussion you can have with your designer to understand your options.
Do not put the focus on the Toilet
One of the worst things you can do is create a design where you see the toilet right away when you walk into the bathroom. We already know that the toilet is an essential part of what the bathroom is for, but let's be sure it is not any part of the focal point you of your bathroom if at all possible. When you are trying to create a vibe to your bathroom design and don't have the luxury of a water closet, at the very least you can hide much of the toilet from your immediate view by placing a vanity in front of the sight line. This in turn could guide you to a tub or shower focal point or artwork you might be displaying on the wall facing towards the door.
Sometimes, Leave It
Speaking of cost being one of the most stressful things about your bathroom remodel, old bathrooms sometimes come equipped with wire lathe or layers of concrete. Replacing some of these older finishes cause a huge price increase for you, and make everything harder on your contractor. Not everything needs to be new - in fact, incorporating some of the older details of your bathroom into the look can be very in when designed properly into your new bathroom, especially if you are going for a vintage look and feel.
Know When to "Raise" the Stakes
While sometimes custom bathrooms can differ, most bathrooms will follow many of the same standards of dimension when it comes to the bathtub, toilet and general layout of the space. Knowing the dimensions of these standards up front can help you to plan your layout. For instance, standard heights for sinks and toilets now offer "comfort height" alternatives that are taller and often easier to use. Discussing that with your designer can allow you to improve the usability of the space in addition to the design.
Keep it on the Corner
Now that you have got the right height in mind for your sink, where should it go? It is common for most of us to have limited space in to work with in most any bathroom. In certain spaces, a corner sink becomes a very viable option. A corner sink can help with traffic flow in the bathroom and can also create cabinet storage space. Small bathrooms may also benefit from a tiny tub placed in a corner, a newer alternative for bathrooms with less space where you still want to be able to incorporate a bathtub.
You Can Splurge
When you are remodeling your bathroom, you should plan and give yourself the flexibility to add a few extras that you decide you must have. If you can not get exactly the materials you want, it might be best to wait a little bit longer and save a little more until you can get something you are truly happy with versus a renovation that you are merely settling for.
That being said, this does not mean that you throw your budget out the window! It is still possible to do a remodel on a budget with a few splurges. Because bathrooms are small, splurging on one or two accent pieces can hugely impact the space. Some marble tile in your shower can be a focal point and is usually a small wall, allowing you to mix it in with your other more affordable materials.
Check your Tile Measurements
A must-know tip among designers right now is to triple-check your tile measurements. Most tiles are sold according to European sizes and are written in millimeters, not inches. If you believe you are getting 8x8, you better check again to make sure. Not only will you be in for a surprise, this difference actually sometimes causes tile not to fit in an area.
Time to Vent
One thing that tends to fly under the radar when it comes to making your bathroom remodel easier and more effective is ventilation. A bathroom is one of the wet rooms in your house, and a wet room means that it's always in danger of growing mold which of course, can be a hazard to your health. If your bathroom does not have a window and has the option to add one, consider working this into your remodel. If there is no option for a window, make sure you speak with your designer about adding an appropriate ventilation system based on your bathroom size and fixtures that vents outside to ensure you are clearing the room of excess moisture.
Reico Kitchen & Bath knows all the tips and trends to help you through your bathroom remodel. If you are ready to start on your new bathroom with a partner you can trust and ask questions to help plan your remodeling project, we are ready to help. Let's see what your new bathroom is going to look like!