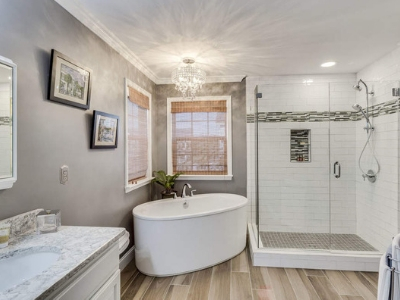 There is no right or wrong way to remodel your bathroom, right?
Wrong. There is, indeed, a wrong way. That wrong way is spending way too much money, not getting what you want, and regretting the whole redesign entirely. Sounds awful, doesn't it? How do you stop this from happening to you? We're here to help.
Straighten up and Tile Right
Designer Pamela Dailey in New York warns of the trials of tile when redesigning a bathroom. Tile can be very expensive with little result. Labor for installing tile is the real kicker, driving the price up high. Simple subway tiling in your shower can make a world of difference - especially if you don't use it all over your entire bathroom. Accent tiles are a great idea to add pops of color without spending your whole bathroom budget.
You can also look for leftover tile and have your designer install that tile. Remnants are often available, and a small remnant could be all you need to punch up the style in your bathroom.
Keep it Simple
A lot of little parts add up. The hardware for your sink, for your toilet, for your shower - the bill racks its way up higher and higher. Leonard Kady is an architect in New York who tells renovators that fewer is better. "More valves equal higher costs," he says. He recommends for the shower that you go with a pressure balance valve that has a single handle. That way, you only have to pay for the installation of one handle.
Get it Finished
Some finishes can be very expensive, with little payoff compared to the alternative. For example, a brushed nickel finish on a shower handle can cost up to one hundred dollars more than a polished chrome handle. Save those hundreds and spend them on an upgraded sink, toilet, or other element that's going to give you more payoff in the end.
Forgo a Medicine Cabinet
"I opt, whenever possible, for a decorative mirror instead of a medicine cabinet," says Kelly Giesen, a prominent designer in Manhattan. She says that it makes your entire bathroom look bigger, giving the whole area a more luxurious feel. Everyone has a medicine cabinet, so your bathroom can stand out from the rest and have a unique feel with a fun, grand mirror.
Use it As An Accent
You might have always dreamed of having marble in your bathroom, but can't afford that price tag. Don't give up hope. You can use it as an accent instead of plastering it all over your bathroom. You can use marble just for your flooring, or as a backsplash for your sink. It's all up to you how much or how little of a particularly expensive item you choose to incorporate.
With Reico Kitchen and Bath, you'll never regret your redesign. That's because we're there to help your from the very start. We'll pick out just what type of bathroom style you're going for, and then work with you from there to achieve your goals. Contact us today if you're ready to do your bathroom right.