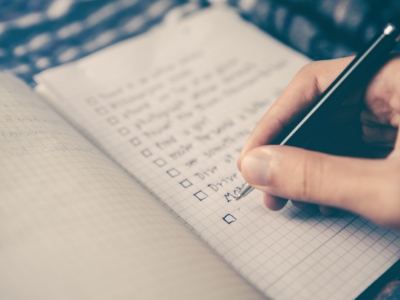 Got a kitchen renovation project in mind? Great! But there's a big difference between having something in mind and having something set down on paper.
By having a checklist for your bathroom project, it helps to create a clear picture of the goals that you want to set. It gets things out of the idea stage and sets them down into the concrete. And it lets you know if you're staying on track.
Set Your Goals
When starting your kitchen renovation checklist, ask yourself "why." Why are you remodeling your kitchen, and what to do you want to get accomplished by the time it's done? Even if it seems obvious, like "new cabinets and a new countertop," write it down anyway. Having a clear goal at the top of the page will keep your sights set on the prize.
Each remodeling decision that you make from then on can be set against that goal and see if it gets you a step closer. If it doesn't, ditch it. If it does, add it to your checklist. Some examples could be "create more room," "redo plumbing" or "improve home value."
Measure Your Area
To know what kind of renovation plans you have to work with, you have to know the size of your space. Write this down - the measurements don't have to be exact, but they have to be enough for you to work with to figure out where you will be able to place new appliances, cabinets, or decorations. Later, the contractor can come in and know the exact measurements, but your preliminary measurements will have given you an idea of what you can include in your space.
Check Building Permits
If there are certain restrictions that your building or your homeowner's association has regarding renovation on your home, it's a no brainer that you're going to want to learn them in advance. But many people don't think about rules before planning their kitchen, so it's a problem that arises more often than you think it might.
Likely, your contractor will know to check the building codes and permits. But if you're dreaming about your home and have a design in mind that isn't up to code, you should know in advance and you're not let down. Check this off your list sooner rather than later.
The Little Things
On your checklist, you might want to include what accessories you're looking to use to decorate your kitchen. While the renovation is going on, you'll be able to search for these items that aren't entirely essential to a kitchen but will add the finishing touches.
You can also add a plan about what you will do if your kitchen isn't going to be able to in use for the time that your renovation is going on.
Hire Your Contractor
Hiring your contractor is a huge step to check off on your list. They will have to work within your budget and be able to recognize the goals that you've set. In the end, they're going to be the ones that can take the checkmarks on a piece of paper and turn them into reality.
Look no further when it comes to thinking about what contractor to hire. At Reico Kitchen & Bath, we know all the steps it takes to complete your kitchen goals. And we want to work with you along every step of the way, so you know exactly what you're getting, from start to finish. Let us check off those boxes on your list by calling and scheduling an appointment today.