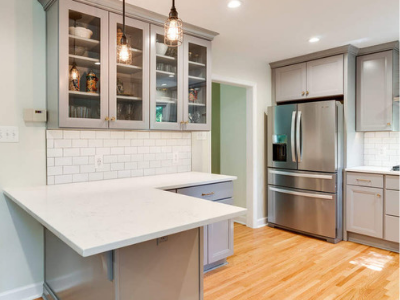 Everyone needs some inspiration every now and then. And when you're planning a kitchen remodel, you need inspiration in a double dose. What are other people doing that you should be doing? Now's the time to check it out.
These popular kitchen ideas are at the top of the list, every single year. These are the tried and true ideas of people who have done it right. Shouldn't you be doing it right, too?
The Farm Charm
Take a page from the book of one of the favorite styles in kitchen design. Farmhouse style is a warm, inviting, and chic look. If you want a relaxed atmosphere through your kitchen, bring in the vintage farm style.
Farmhouse style looks lived in, and allows you to repurpose items you might already have. Copper plays a huge part in this kitchen, along with wood and bronze. Yellow and blue are common colors to play with, and having a hood over your stove or cooktop really brings the style together.
Double down on Countertops
To add dimension to your kitchen, you can opt for not one, but two countertops. Open up the space by breaking up your countertops. If your kitchen is small, it can even help to expand the look and feel of your space. A fun design trend that people have been using? Adding different countertop materials. You can have marble on one and granite on the other to add range in texture and color to the look of your kitchen.
Mix and Match
You can pick and choose between higher and lower-end items. The end result? Everything will look higher end. Choose the drawer pulls that are a little less...it's okay, no one will be the wiser when you put them on custom made cabinets that are seamlessly designed for your kitchen. Wanna throw your own piece of reclaimed wood in the mix with a brand new countertop? A mix of old and new can be your little secret and a big friend to your budget.
Vaulted Ceilings
Not every kitchen allows for this upgrade, but if your kitchen can support a vaulted ceiling, by all means, consider it for your next remodel. Adding space to the ceiling can make a small kitchen seem bigger by leaps and bounds. Visually, your space is enhanced. It also makes the area feel airier and brighter. You can choose to install windows as well and add in extra light.
Different Work Zones
You're not always doing one thing in your kitchen, so you don't need just one space. Are you a frequent entertainer? Design yourself a mini-bar area with a separate kitchen island. If you're a frequent coffee drinker, make yourself a coffee station. A baking station can also be a fun and unique addition to your kitchen. If two people cook in your kitchen often, the two counters mentioned earlier is a good way to keep everyone from running into each other.
At Reico Kitchen & Bath, we've got a finger on the pulse of what works and doesn't work in your kitchen. After decades of design and remodeling experience, we can look at a kitchen and tall to you about what you need to make your kitchen dreams come true. Contact us today, and you can get started on updating your kitchen to just what you've always wanted.