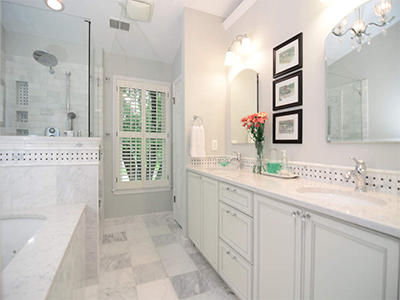 Your bathroom renovation means a lot of things. It means you get to have a beautiful, exciting new bathroom. It means you will be able to decide just what you want your area to look like. But something that you might not be as clear on? The potential for a significant addition to the value of your home.
Whether you are thinking about selling your home in the near future or you know it is a possibility down the road, the type of bathroom model you do can affect the ROI you get on your bathroom remodel investment. Remodeling a bathroom can drive buyers to purchase a home, and until then you get to enjoy your freshly remodeled look. Here are some tips on how to get the best bang for your bucks.
Types of Bathroom Remodels
It is a well-known fact that bathroom remodels are one of the biggest value earners when it comes to ROI. Even small cosmetic changes can substantially affect the worth of your home. The type of remodel you plan to do will directly affect the value of your home.
Midrange Bathroom Renovation
When you are doing a mid range bathroom renovation, it is a fairly standard procedure. You will not see all the bells and whistles here, but you could be talking new ceramic floors, a new vanity cabinet and countertop or new fixtures, likely in chrome. This type of remodel usually also involves a new, standard toilet though going to a comfort height gives it a little lift.
The national average for the ROI on a midrange bathroom model is 70.1%, with the national average cost at $19,134 and national average return at $13,422.
Upscale Bathroom Remodel
An upscale bathroom remodel, on the other hand, is where all the bells and whistles come in. Usually these types of projects can have a lower return because they involve extensive processes like expansions or layout changes that add to the costs. However, this does not have to mean a low return - you can advertise this as a very desirable upgrade in your home that is unlike any others in the area and pique buyer interest that way.
Most of these renovations also include new lighting, high end features like heated floors or rain shower heads, freestanding tubs and other luxury additions. Also expect to see materials like stone for vanity countertop upgrades.
For this type of remodel, you will see the ROI nationally at 56.2%. The national average cost is $61,662 with the return at $34,644.
Universal/Aging-in-Place Bathroom Remodel
With the highest ROI of all the bathroom remodeling options, this type of renovation continues to grow in popularity for a number of reasons. Depending on the degree to which you remodel, it can make your home extremely valuable to almost any buyer. You can focus on simpler design elements for aging-in-place like taller vanities and toilets or pulls versus knobs, or incorporate more specific universal design elements to remodel the bathroom to make the area wheelchair accessible. This could include but is not limited to widened doorways, open-base vanities, walk in showers and support bars installed throughout.
For a universal bathroom remodel, nationally you can expect to see an ROI of 70.6%, with average cost at $16,393 and national average on return at $11,581.
How Do I Remodel My Bathroom for the Best ROI?
So now that you have an idea about the ROI on different types of bathroom remodels, the question remains as to which remodel will maximize your investment and get the most out of your time. Here are a few more tips on what you can do to make sure you secure the best design for the best value.
Keep it Neutral
If you are planning on moving soon, keep the personal elements and favorites to more of a minimum when it comes to your remodel. If your taste is not the same as someone who might be considering buying your home, chances are the may not love the remodeled bathroom to the same degree that you do. This can impact the ROI as well.
Insted, keep the room as light and natural as possible to be able to appeal to the tastes of as many buyers as you can. Research has shown that light blue bathrooms offer a higher level of appeal than other neutral colors. Keep that number in mind if you've really been dreaming of an orange bathroom, and think twice.
Make it Functional
Your bathroom is unlikely to be desirable if it has a non-functional layout. If the flow currently doesn not work as well as it should, it is time for a serious bathroom remodel to increase your ROI. If you are going to rework the layout, functionality needs to be top of mind. This includes ease of use, how easy it is to maneuver through space, providing adequate storage, and proper electrical options in the right places.
Do a little for a lot and get a Quick Fix-it
To increase your ROI, the main focus should first fall on the things in your bathroom that are obviously broken. Are there chips in the paint or cracks in the walls? Oftentimes these simple fixes can immediately increase the look and the value of your bathroom. Water stains, dirty grout, and bad lighting can all make your bathroom look a lot worse for the wear than it actually is. Consider adding new ventilation to the space as well to make it feel more light and airy.
Even the most minor fixes can increase the ROI on your bathroom. If you do not have the budget for new lighting, add sconces by the sides of your mirrors. Even updated drawer pulls can make the entire place look more put-together. And, of course, you'll want to make sure you give the area a deep-cleaning: a beautiful remodel will still look less than perfect if the bathroom isn't maintained.
Reico Kitchen & Bath has been adding value to homes for decades, and we want to continue the tradition with yours. We want you to take your home to the next level, and love your kitchen and bathroom again. Got a weekend bathroom remodeling project? Don't know exactly what it is that your kitchen so desperately needs? We can help. Contact us today and set your renovation dreams into motion.