5 tips to help create your perfect bathroom design.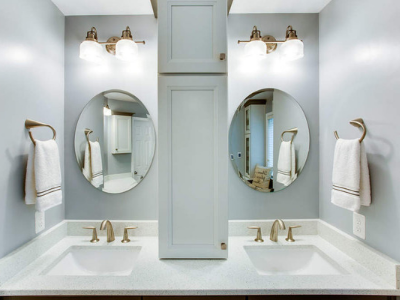 You're so ready for your bathroom remodel. It's time you got that old bathroom and turned it into something new that you actually enjoy being in.
When it comes to planning out the details of your bathroom remodel, there are, of course, quite a few factors to consider. Now you can know exactly what to keep in mind when you're getting ready to create the space you've always wanted.
Consider the Rest of the House
When you're designing one room, you should keep in mind that it's still going to be a part of the entire home. When your bathroom is in your master bedroom, you might want to make the style match with the rest of the house. If it's not, you could consider changing the style entirely to make it a getaway.
If you have a master bedroom that's decorated in Victorian style and then you suddenly jump into a beach theme, it might not make sense. But if you have a bathroom where you can close the door or the transition won't be so abrupt, consider using a style you didn't get to play with in the rest of your home.
How Many People?
First thing's first: you need to consider how many people will be using your bathroom. If it's just one, you're obviously going to need less space. If there are going to be several people using the area, you might need to think about adding extra vanity sinks, storage, and if you need both a tub and a shower. When it comes to design, it's always important to look at function first, and then look at the style.
Rules and Regulations
When you're designing a new bathroom layout, there are some rules and regulations that you have to adhere to. The National Kitchen and Bath Association has them laid out for you. They mostly involve allowances of space for fixtures like your tub, toilet, shower and sink. The guidelines are in place to make sure you're safe, and you should make sure you're working with a designer who understands them well.
Work With an Expert
Unless you're an expert yourself, you probably have a lot to learn about designing a bathroom. You know what style you want, but the rest of the details might be hazy. Make sure the person you're working with that's helping design your room is easy to communicate with and explains exactly what you can and can't do when it comes to space, functionality, and style.
Don't Ignore the Toilet
Believe it or not, the toilet actually tends to set the tone for the entire bathroom. The toilet's location can completely change the design of the bathroom. You want to make sure you have enough space to maneuver around the bathroom while keeping the toilet out of the way.
If you're considering gutting the toilet entirely and removing it, you'll be surprised how much life the simple change can bring to your room.
If you can, keep the toilet in the same place or as close to the same place as you can, it will cost you less. Do a cosmetic refresh if your toilet it old and dingy, and you'll be surprised how much life the simple change can bring to your room. You can change the height of your toilet for comfort, get a more water-efficient device, and an all-around better bathroom.
Reico Kitchen & Bath is your leader when it comes to creating stellar kitchen and bathroom remodels. We're here to give you the specifics on what each and every kitchen and bathroom remodel needs, in terms that you can understand. When you're ready to get the bathroom you've always dreamed of finally having, give us a call.