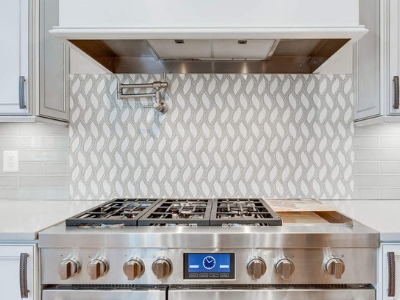 You've got tile in your kitchen. You've got tile in your bathroom. Are you using it to your biggest advantage?
There are a lot of different options for tile out there. You should know some basic rules of thumb if you're looking to update the tile you already have, or even looking to add tile to your room for the first time. Here's some help to ensure your tile redesign is successful.
Reconsider the Countertop
If you're looking at your countertop and thinking that it might be a good idea to update it to tile, think again. It might be appealing at first to think you can add tile to your counter at a fairly cheap price point, but tile also comes with grout.
Countertops get used a lot. Whether it is food in the kitchen or makeup in the bathroom, something will inevitably get between the tiles and into the grout on the countertop. Eventually, grout lines get stained and harder and harder to clean. If you want to deal with the grout on a lesser used countertop and get tile that still looks good, then tile can be your answer.
In some cases, grout can be used to your advantage. You can change the color of the grout so it doesn't allow dirt or messes to show up as easily. You can also space your tiles more widely apart so that the grout becomes part of the design element itself.
Steer Clear of Large Tiles
If your bathroom is on the very large side, you can basically get away with whatever tile size that you want. If your bathroom size is fairly standard or small, you don't want to use big tiles. Big tiles can look weirdly disproportionate in a small scale area, especially for bathrooms that are on the smaller side.
With your kitchen, the same rule still applies, but not as strictly. For backsplashes, walls, and kitchen counters, you don't want enormous tiles that can distort the perception of the size of your kitchen space.
Instead, keep your tiles about four square inches, or even smaller. If you're tiling around a toilet or a sink, this is also going to make the job easier.
Heated Tile
Yep, getting heated tile for your bathroom is actually something you can afford. That means when you step out of the shower, your feet will be greeted with warmth instead of freezing cold. This isn't a design element that you can see, but you'll be able to feel how luxurious your new tile is.
Consider Color
When it comes to tile, you probably want to stick to neutral colors. White, grays, and blacks are more traditional tile colors that you'll typically enjoy working with. Multiple colored tiles might seem like a good idea at first, but after a while, can seem busy or tacky on your walls or floors. If you really want to use color, install just a few tiles as accent marks on your walls. Then you can match other design elements with your accent color.
We're ready to get that tile work working for you at Reico Kitchen and Bath. The minute you're ready for your entire kitchen and bathroom remodel, we're ready for you, too. We've got experts for your kitchen and your bathroom that would love to help you with your tile and all your choices. You don't have to decide all on your own when you partner with us.