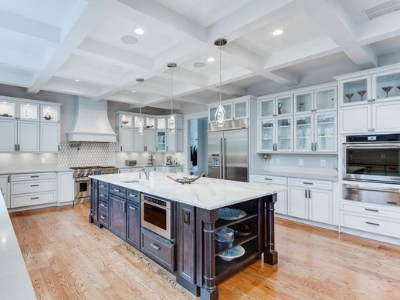 You know you're the ultimate host. You mix the best drinks. You've got just the right playlists. Your cooking is to die for. But your kitchen isn't.
If you're always the host with the most but your kitchen isn't cutting it for your parties, it's high time for a remodel in your kitchen. Improve functionality, feel less cramped, make your space more fun... now that's something we'd celebrate.
Give Yourself a Kitchen Island
When you're prepping for your party and don't have space to do it, you can feel more stressed than excited. Chopping up your food on a tiny little counter space can get really old, really fast.
A kitchen island gives you an area to spread your food out.. Preparing for your party should be fun, not stressful. And when your party actually rolls around, people can grab food from the island and use it as a place to converse around.
Add a Wet Bar
Another place for people to converse? A wet bar. Your wet bar can be made with a sink and storage, so you can whip up whatever drinks you want there. You can also use it as a serving station. Having your drinks at the ready as your guests arrive can really help get the party started.
An Open Layout
The flow of your kitchen layout is the most important thing you can get right. If your layout is claustrophobic, people aren't going to want to linger there. Even if your kitchen isn't your main room for entertaining, people are bound to wander in and out. If it's not easy to move around, the experience is sub par.
Re-do your layout for a little more feng-shui. You want to create an inviting atmosphere with openness. Get rid of doors and if you can, add a window. Tight corners need to go, along with kitchen islands that might be placed too closely to the walls.
Seamless Transitions
Like we said, people are going to be wandering in and out of your kitchen to other rooms in your house. If that transition is cramped, then the connectivity of your kitchen with the rest of the house is interrupted.
You'll want people to be able to transition from the living room, dining room, patio, and other rooms right into the kitchen. If you need to, you might even want to knock down a wall in your house. That way, the dining room is open right into the kitchen.
Ready to knock down those walls? Reico Kitchen & Bath wants to make your kitchen the ultimate entertainment zone. We have all the help and expertise you need to design the perfect kitchen layout for entertaining, and can tell you exactly which points in your kitchen are problematic now. Contact us today, and let's get your new kitchen remodel started.