Stainless steel is a timeless standard to every kitchen.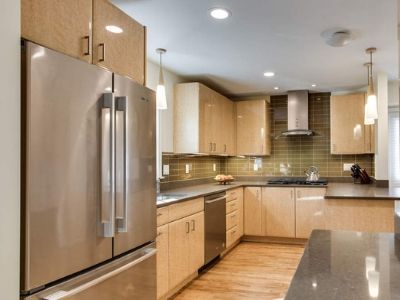 Stainless steel was invented in 1913. Why has it taken you this long to use it in your kitchen?
For decades, people had been looking to create new technology that they could use for knives and other tools. Stainless steel was born, and quickly popularized because it resists corrosion, doesn't stain, and is high strength.
Today, it also brings a highly modern appeal to any home. If you don't have stainless steel in your kitchen...it's time you add it.
How to Design With Stainless Steel
Stainless steel is much more versatile than you might think. If you're looking to add a splash of sleekness to your kitchen design, it's a gorgeous and easy way to take you there.
Stainless Steel Appliances
Adding stainless steel appliances is the easiest way to start designing with stainless steel. You can choose a stainless steel fridge, dishwasher, or oven...or all 3! However, if you're trying to be more conservative with your modern style, you might want to pick just one of these.
One of the simplest things you can do? Get a stainless steel sink, or just stainless steel hardware for your sink. Your faucets and handles? They can be stainless steel. It's easy to clean, and looks clean and professional.
Stainless Steel Kitchen Islands
Stainless steel kitchen islands are very popular when designing with a modern vibe, and make your whole kitchen look extremely fresh. You never have to worry about rust, damage, or even grout when you choose to have a stainless steel kitchen island (or even countertop.) You get both durability and style when you choose this route. And if you can't go stainless for the cabinets, maybe consider a stainless steel countertop for the island.
Stainless Steel Accents
While stainless steel is modern and slick, in some cases you just don't want to have too heavy of a hand when designing with it. Keep it simple - if you opt for an overwhelming amount, your kitchen might end up looking cold.
Offset your industrial look with other warm accents to create a perfect harmony. Wood and stainless steel mix well together, blending both natural and manmade elements together for a nice balance.
For example, perhaps you want a stainless steel range. This will make your kitchen scream professional, because that's what they use in restaurants. But to tone it down a little, you can add a wooden hood or wooden cabinets around it to keep bringing it into harmony. Ceramic and granite accents also work well to soften the starkness of the designer metal.
Create a natural-looking backsplash in your kitchen to offset your new stainless steel design. Softer hues that complement the metal look great, like grays and soft whites. You want to play with your stainless steel and compliment it, so it blends into the kitchen while evoking that new and modern edge.
At Reico Kitchen & Bath, we know kitchen design. Whether it's stainless steel for the kitchen or another design element you've been playing with, we can help you determine if it would be the right fit for your kitchen remodel. Call us today to see what a difference we can make in your kitchen. You're that close to a new, beautiful and modern design.