When you are remodeling your kitchen, you have a ton of questions. How long is it going to take? Where do I begin? What can I expect? As important as all of those questions are, one of the most important things to identify before the timelines and when you begin is what type of kitchen design style you want for your new kitchen.
Picking a kitchen design style can be difficult because you might have a hard time choosing just one particular style you will love for the life of your new remodel. We have good news! Your solution might be choosing to remodel your kitchen in a transitional style.
What is a Transitional Style Kitchen?
The name might give away more than you realize. The transitional style kitchen is a blend of designs, marrying traditional and modern styles together seamlessly so you do not have to settle for one or the other. The overall feel borrows elements from each and comes together in a welcoming, warm, and clean atmosphere.
This type of design is hugely popular among both homeowners and designers. Why? Because it helps to satisfy tastes across a spectrum of preferences. With its fluid nature, the versatility of the transitional style can be hard to create a simple definition for. With the many different options and combinations that the design style offers, each kitchen becomes a unique transitional creation.
How Do I Create a Transitional Style Kitchen?
Thanks to the style's unique ability to offer you a broad spectrum of different looks, you can be just about as creative as you want to be when thinking about your kitchen style. Talk with your designer about your favorites from each style and how they can mesh together into a cohesive look. Some additional tips to consider:
1. Keep Your Palette Neutral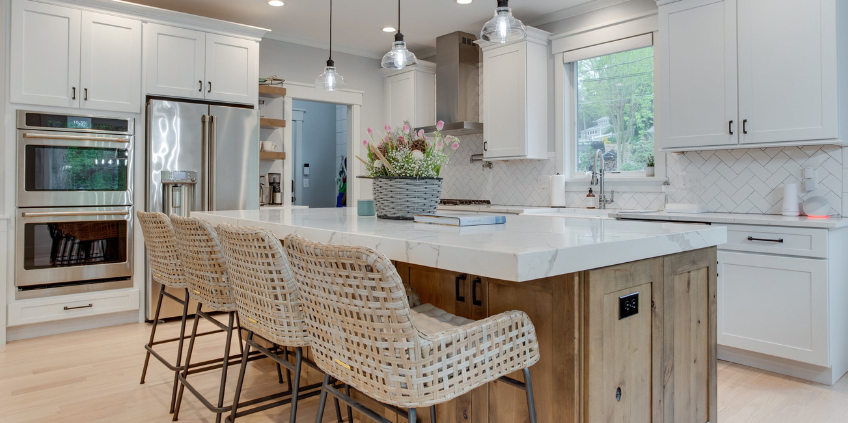 The rule of thumb for a transitional style room is to keep the color scheme to neutrals, selecting various different shades of natural tones throughout. The end result will be a timeless intersection of a modern and traditional look. For example, maybe you are choosing to go with white cabinets, a marble countertop, and wooden furnishing.
Most transitional styles out there are not going to be bursting with orange or yellow. Although, if you would like to incorporate some less traditional colors, there are times when the rules are meant to be broken. Incorporate accent colors in small details throughout the room if this is what you want to go for.
2. Choose Your Accents Wisely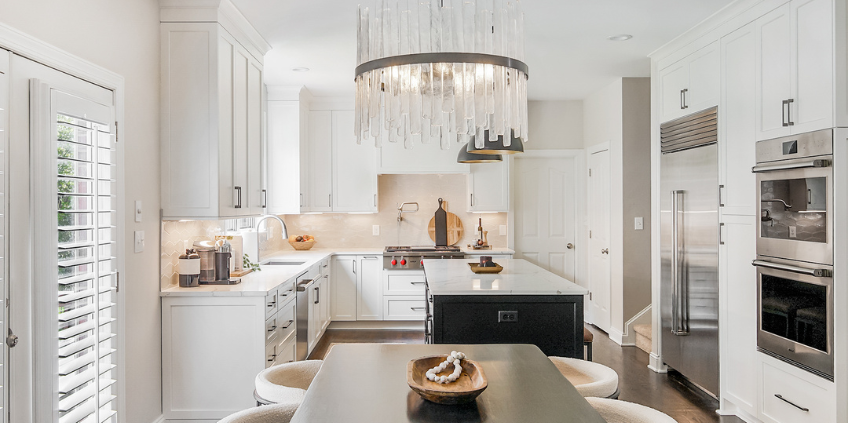 Where contemporary kitchens usually have a super clean, non-eclectic style, traditional kitchens are typically decked out with a few more accessories. When melding these two worlds, that means you get to use simple, yet fun accents throughout. Maybe you have one more elaborate chandelier light that goes with the rest of your cleaner, more subtle lighting. Kitchen cabinets get small crown molding, and clutter is kept to a minimum. You are going for sharp, crisp geometric lines accompanied by a few accent marks.
3. Focus on the Cabinets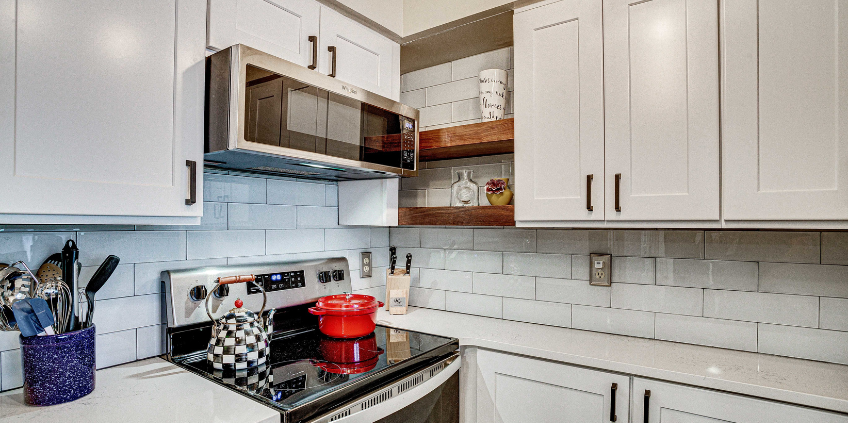 Cabinets are an element of your kitchen that take up a lot of the visual space. In a transitional style kitchen, you will want to make sure your cabinets are streamlined and kept fairly simple. Shaker style cabinets are popular for this design, and fit in well with the style. Clean lines give a nod to a more contemporary style, while shaker cabinets lend a hand to traditional style. Hardware should also be kept mostly to a minimum, with simple handles that are not overly ornate.
4. In With the Old, and in With the New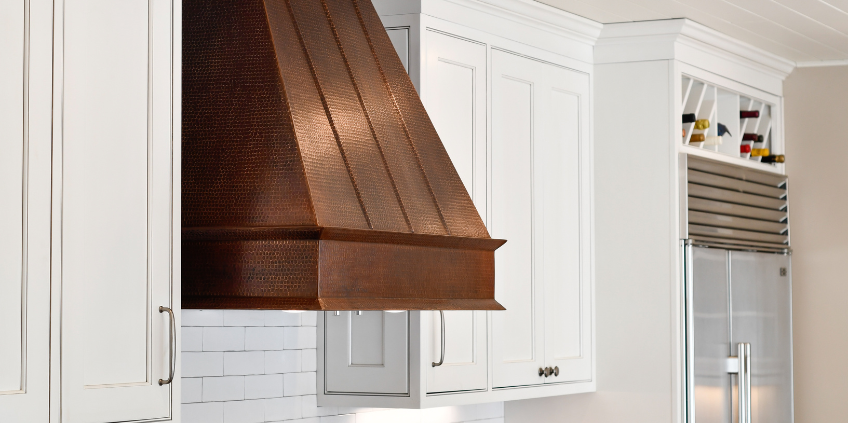 Transitional style brings together old and new elements and creates one fresh look. Adding old styles together with new styles is often at the core of what transitional design is, so keep an eye out for which modern looks and which older trends speak the most to you. Perhaps you love the look of a vintage hood and stove, but can't live without the sharp, clean angles of a white kitchen island. All you need is one detail to tie them together - whether it be color, material, texture, or something else. You can mix and match styles by coordinating everything together with a common theme.
5. Mix and Match Textures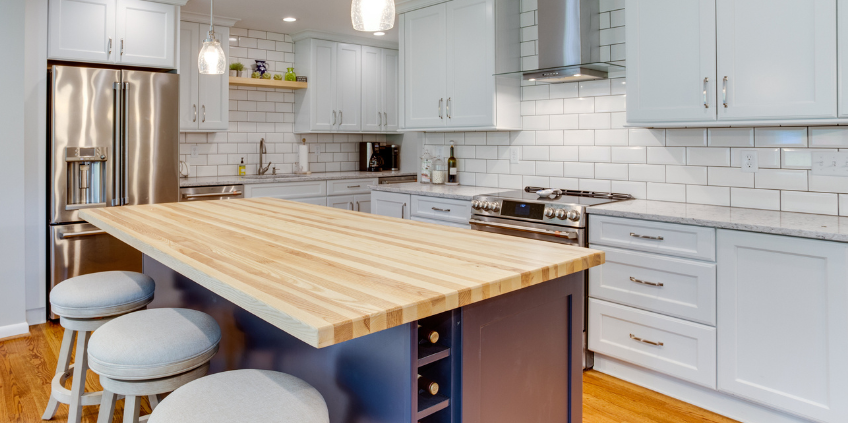 Bringing warmth into your home by using a variety of colors and textures is important in creating a well-styled, complete transitional kitchen. Bring in different materials, and mix and match them to fit your style. Glass, stone, and marble can all come together to create a harmonious whole. Wood and steel can work with each other to give the space a bold look. Whatever materials you like best, in most cases you can work them into your transitional kitchen design.
6. Don't Be Afraid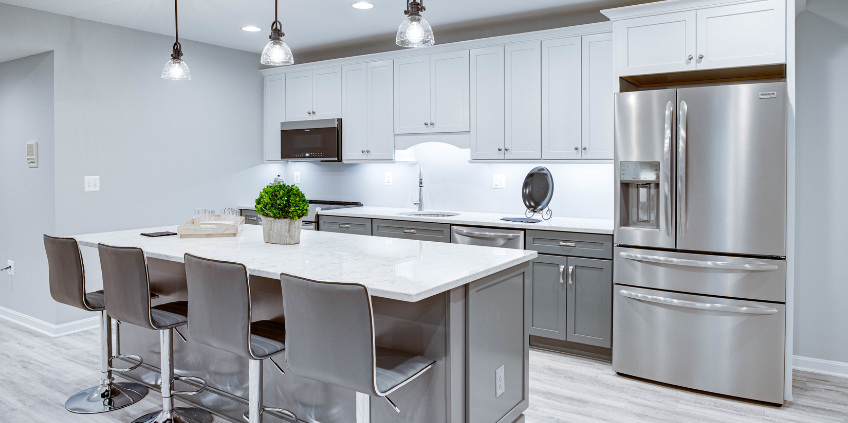 With all the mixing and matching you are tempted to do with transitional kitchens, you might be afraid you are going to lean too far into traditional or too far into contemporary. Do not be afraid to go with the styles you love the most! Consult your designer for help and together you can design a plan for how to create the perfect blend you are going for.
Follow these quick bullet points to stay on track:
Classic, clean lines with not too many curves

Grays, blacks, creams, taupes, and whites

Keep accessories to a minimum, but don't be scared to include a few fun ones

Keep focus simple, like an accent wall

You can use tone-on-tone colors for the entire palette

Evoke a sophisticated sense of style
7. Think about the Doors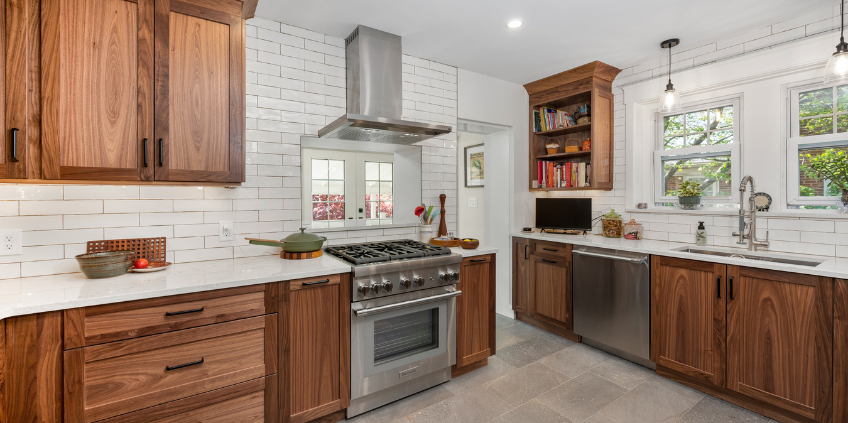 According to Linda, a Reico Kitchen & Bath designer, customers "… are not ready to go full out contemporary with a slab door in a high gloss finish, but at the same time don't want to stick with a traditional raised panel door style that reminds them too much of their current kitchen or a parent or friends kitchen." As a result, many clients opt for a shaker-style door with a flat center panel or a slab door in a solid wood like cherry versus a gloss or thermofoil finish. "They want the best of both worlds," says Payne, "and both the shaker and slab wood door styles give them the opportunity to achieve the look they want without leaning too far towards either traditional or contemporary."
8. Clean, Clean, Clean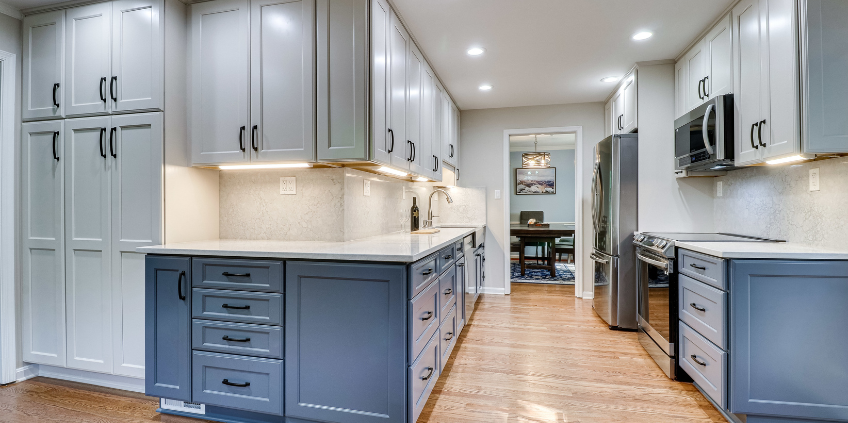 By matching up the sparse minimalism of modern design with the warm, detailed look of traditional design, transitional's clean, uncluttered look comes together near seamlessly without feeling or looking dated.
What does this mean for you if you are considering Transitional Design style? No fancy applied crown moldings, furniture like accessories, high gloss finishes, contemporary curved doors and darker granite pattern and colors. Instead, welcome flat and recessed panel doors, straight lines and angles, full overlay doors that conceal cabinet face frames, shades of grays and whites, and subtler tones and patterns of engineered stone and quartz.
At Reico Kitchen & Bath, we are ready to take your kitchen and design style to the next level. For decades, we have been working with homeowners to guide them through the process of remodeling their kitchens and bathrooms into the new space of their dreams. Whether you are looking to remodel a transitional style kitchen, bathroom, or another style entirely, we can easily take you from start to finish. Schedule a consultation today!