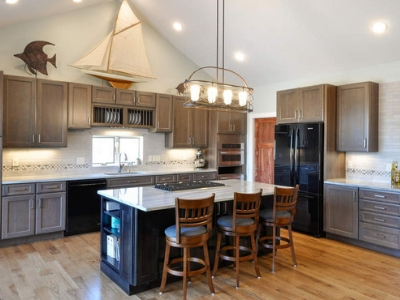 Your kitchen might have been really cool in the 1970s. But it's no longer the 1970s. Unfortunately, bold backsplashes, crazy colors, tons of dark wood, and laminate countertops aren't really all that cool anymore.
But don't get us wrong. Some of it is still cool. So how do you know what parts of style will still be cool in ten years, and which will be ones that you regret? Here's how.
Think Minimal
It might seem kind of sneaky, but going minimal is the most surefire way to ensure your kitchen or bathroom is going to stand the test of time. That's because there are fewer style elements out there to take a risk on. You can never go wrong with a minimalist style.
Open shelves, simple cabinets, and classic details will get you very far, for a very long time. The cleaner the look of the kitchen or bathroom, the more guaranteed you are to be able to keep that style for a long time. Sleek lines and open spaces? Everyone loves that, and they love it day in and day out.
Black and White
Throw color out the window, and think in black and white. Black or white kitchens stand stick around for a long time in a big way. Not only are they always in style, but they're also practical.
Most appliances are going to be offering in either black or white, and if you need to update, you'll be able to find one that matches. They're the easiest color scheme to coordinate with and know for certain that everything looks great. In general, the more neutral the tone, the more likely it is that you're not going to want to change everything soon.
Darker Woods
The downside to white cabinets, even though they look effortlessly stylish, is that they get dirty quickly. When you get darker woods for cabinets and potentially floors, you won't be able to see the dirt as easily. Dark woods also never go out of style, especially if you can afford real wood, which is always classic. Think of a room that you've been in with hardwood floors - it's a mark of quality, no matter the decade.
Marble and Quartz
For your kitchen or bathroom countertops, marble or quartz never go out of style. Even though they're on the more expensive end, they'll last through the years. So it's worth the investment in the beginning. They also come in all different color schemes so you can coordinate it with the rest of the room.
An Open Layout
Being cramped was never in style, but maybe that's the unfortunate situation you find yourself in with either your kitchen or your bathroom. Open layouts will never go out of style. Tear down a wall or open up that kitchen space. Don't keep your kitchen isolated - it can be connected to the other room, if need be. You'll feel freer, and you won't ever regret opening space up.
We're here to make your bathroom and kitchen remodel as timeless as timeless can be. If you want a kitchen or bathroom that you walk into every single time and love just as much as you did the first day, contact Reico Kitchen & Bath. We'll be able to give you current, expert advice on what looks will be perfect for your specific area, and how to design it so it will never go out of style.