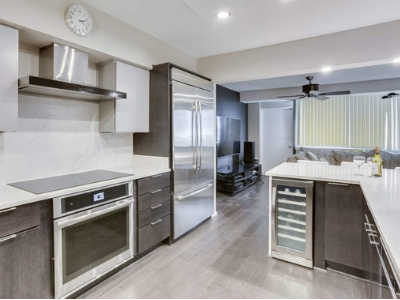 When you make a change, you want people to notice it. That wow factor is one of the most rewarding parts of getting your home remodeled. It should be a before and after picture, you really want to show off.
You don't have to do an entire kitchen remodel (unless you want to) to get the results you're looking for. Here are some smaller scale kitchen projects that can really spruce up your home, and still get you those compliments you crave.
Cabinet Update
There are few kitchen projects as easy as re-doing your cupboards that make as much of a drastic difference in the appearance of your kitchen. Many kitchen cabinets are suffering from dated, drab cabinets. Give your kitchen the cabinet facelift it needs, and you'll see how well it pays off.
You can also opt to add cabinet pulls to your cabinets for a quick fix before you decide to do a full renovation. You can reuse the existing layout of your kitchen, and all you have to do is replace those tired old cabinets with no design changes. Better-looking cabinets can take your kitchen from zero to sixty in one simple renovation project.
Quartz Countertops
A white tiled kitchen countertop might be what you're used to. That's what every basic kitchen is used to. Yawn, and so painfully outdated. You need something that really creates an impact in your kitchen. And that's where quartz countertops come in.
Quartz is the leading material in countertops, because it looks like natural stone but is actually harder, so won't scratch. On top of that, it's gorgeous and can come in a huge variety of colors. Each quartz countertop is unique, something else that's really going to pay off in your kitchen. Re-doing your counters no matter what will create an impact, but a quartz countertop adds that wow factor.
Beef up Your Backsplash
Creating an eye-catching backsplash works wonders for adding depth and texture to your kitchen. On top of that, it's a relatively simple, albeit labor intensive job.
Ask a designer for suggestions on what kind of backsplash would look the best in your kitchen. They can see what kind of accent colors you want to play with, how elaborate you want the backsplash to be, and materials you'd like to work with. When you walk into a kitchen and see a sparkling backsplash tiled onto the wall, it's definitely a visual that gives a great first impression.
Languish in Lighting
A kitchen with only ceiling lights for general illumination and no task lighting makes for dark, shadowy times. To really have a kitchen remodel that pays off, re-do those overhead lights you've had for years. It's a fairly easy process for a team to come in and makeover the lights into the lighting you've been dreaming about. Then deck your space out with pendant or under cabinet lighting for a more complete and rewarding lighting experience. Your whole kitchen will be even more energy efficient.
If you can, add natural light. Perhaps there's a wall in your kitchen that you can open up into a window. By all means, take advantage of natural light, as it's the best accessory a kitchen can have.
Ready to get on board with a remodeling idea that really pays off? Or how about re-doing your kitchen entirely? Whatever it is, Reico Kitchen & Bath is on standby, waiting to hear from you. We want your kitchen remodel to be as rewarding as it can be, so we'll spend the time to help you get there.