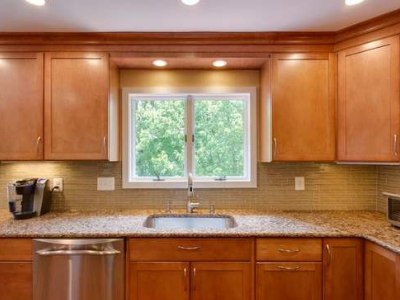 What's a ginormous problem? Tiny kitchens.
When you've had enough of trying to shove your pot and pans inside little cupboards and cramped corners, it's time for a kitchen renovation. Imagine being able to walk into your wide open kitchen and have room to spare. If that sounds like a dream come true, then we've got some renovation ideas you can really "space" out on.
Think About Your Sink
A little sink could be giving you big trouble when it comes to trying to get the dishes done. Cooking doesn't sound like fun when doing the dishes is going to be a cramped, frustrating process.
Getting a new sink will have a huge payoff in the long run. Consider getting a large one sink basin if you have a small kitchen. Large sink basins will make doing tasks in your kitchen much simpler. It can streamline your process and make you get done with your chores more quickly, so you can enjoy your kitchen.
Pantry Power
Creating a custom pantry might be the best thing that ever happened to your kitchen. Adding extra bells and whistles to a tiny pantry, like spice racks and lazy susans can definitely help. But renovating the entire pantry and giving yourself new shelves and pullout drawers? That's what's going to make all the difference.
The key to a great pantry is creating easy access to everything you have. Your pantry doesn't have to be walk-in to display everything nicely. Ask a designer how they can renovate your pantry to be the storage closet of your dreams.
Open Shelving
Adding open shelving to your kitchen opens up the space and makes it feel much bigger. Simply install the open shelves in a free wall in your kitchen, and now you've got practical and decorative storage right before your eyes. You can add as many or as few items to your open shelving as you want. The storage is all up to you.
Cabinets, Cabinets, Cabinets
Cabinets have come a long way since you last renovated your kitchen (if you ever have!) Now you can store more than ever inside of them, and getting them renovated is an essential move for an organized kitchen.
Add extension slides to your base cabinets so they pull out and store more than they ever could before. These rollout shelves can also save you all that lost space that you're not using inside your cabinets. There's tons of space you might not be using at all simply because it's difficult to access. The deep dark places of your kitchen? Time to bring them into the light.
At Reico Kitchen & Bath, we know just what works in your kitchen and just what doesn't. Open up the space in your kitchen and feel like you're living in a whole new home. Our kitchen storage renovations have stood the test of time for homeowners over and over again. Make your kitchen bigger. We dare you.