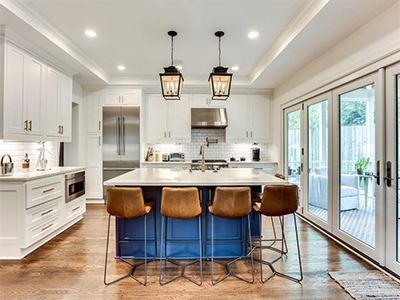 We all know the saying "new year, new you," but what about new year, new room? On top of all that, it is a completely new decade as well. So maybe that new room should be on your list! At Reico Kitchen & Bath, we always think it is a good time to get the kitchen or bathroom of your dreams. Turning over the leaf on a fresh decade, it could not be a more perfect time.
Whether you are looking to update an entire room, or just add a little bit of fresh inspiration to the space, let us help you find the right renovation ideas for your kitchen or bathroom. The next decade is going to be full of a lot of smart technology updates and new and improved product looks for your kitchen or bathroom. The only thing you have to do for a brand new remodel, big or small, is pick up the phone and call. Here are some reasons to inspire you to make the call:
A Climbing Backsplash
Going, going, gone are the small, mild-mannered backsplashes. In are the new and improved versions! Instead of having a backsplash take up only the small space over your countertop in your kitchen or bathroom, the popular trend is for the backsplash to extend much past that. You may even choose to have it rise all the way to the ceiling. For a bolder look, you can add color to your backsplash, be it as an inlay to highlight or to the entire thing as a focal point to really make this trend catch the eye. Another option that can elevate your backsplash? Using plain white subway tile for a more toned down version of this "rising" trend.
Specialty Sinks
It's a new decade, so why would you still want to be using a sink or faucet from decades past? If it is time to update your water appliances, start with your options for faucets or sinks. Not only do new faucets use less water than an old version, if you're remodeling your kitchen you can get a specialty sink that will also wash your dishes. Using less than 1.6 gallons for every cycle, there are now tiny sink dishwashers that can be loaded up and done quickly and easily. These dishwashers are configured right into or along side a regularly sized sink, but do a very small load of dishes to add convenience to your kitchen routine.
Larder Cupboards
Adding in a room or cupboard for storing food, also known as a larder, to a kitchen remodel has seen a huge surge in popularity. In general for remodels, cabinet updates give the entire project an enormous added value. Larders make it so your kitchen can be more streamlined, because sometimes they eliminate the need for additional cabinets in traditional places due to all of their storage space.
Veined Marble
There's no renovation that doesn't become instantly more stylish and classic than one that includes marble. In the upcoming year marble will continue to reign, but with a few nuanced differences. Instead of more traditionally subtle patterns, veins in marbles are hitting kitchens and bathrooms everywhere. Heavily veined or colored marble has seen an uptick in popularity, and can be used on a vanity sink countertop, a kitchen countertop, or even in flooring.
Mixed Metals
When was the last time that you looked at the hardware in your kitchen or bathroom? This year, designers are mixing it up when it comes to metals. Copper, brass, nickel...all are fair game to mix and match and customize to the look of your kitchen. As long as the colors coordinate well with each other, adding different metals and finishes can create layers and feelings of texture to your kitchen or bathroom and update the entire feel of the area.
Wide Open Spaces
When designing your new kitchen or bathroom, if you have limited space it might be difficult to get on this trend. If there is a wall between rooms that's not load bearing and viable to knock down, you definitely want to consider it if you are looking to give your home a more open, airy and spacious feel. Having the kitchen seamlessly blend into the dining room or family room opens up the entire space and connects it at the same time, and can make gathering and entertaining for parties simpler because it is easier to stay connected from one place to another. Removing a potential wall in your bathroom can also make it feel roomier, as can choosing a doorless shower.
Double Kitchen Islands
When you start incorporating more open space into your kitchen renovation, it is possible that you could create space for a second kitchen island to enter the design scene. Big, airy kitchens allow you to have more room for prepping food, which is where doubling up the kitchen island can come in. Instead of being stuck to countertops against walls or in one space, adding two kitchen islands gives you plenty of the space you need to work comfortably. One island can be used for entertaining, while the other stands as a place to continue food preparation. A touch of space and luxury.
Dark Appliances
Speaking of different finishes, kitchen appliances are taking a turn toward the dark side. While white and traditional stainless steel fridges, ovens, and stoves will always remain a timeless classic, black stainless steel appliances are beginning to trend. This choice is an easy way to add a dramatic touch to your kitchen. Be careful to buy the same manufacturer when choosing a dark appliance, because different brands interpret specialty colors differently. You might find yourself looking at a difference in color if you don't stay on brand.
At Reico Kitchen & Bath, we know remodels. We want a new year (and decade) to mean a new, beautiful kitchen or bathroom for your home. There has never been a better time to contact us and ask what we can do for you. Your dream kitchen or bathroom is just around the corner. From the appliances to the cabinets, countertops and everything in between, we have all the products you need. Let's do this, together.