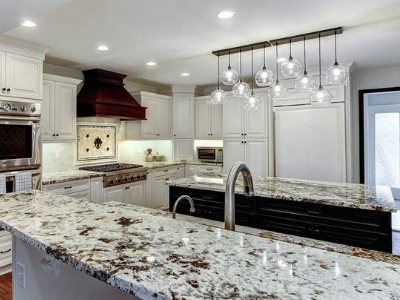 What's cooking in your kitchen? We're sure it's a lot of delicious food for you and your family. But we're more focused on the design schemes that have been brewing.
We love a well-designed kitchen. The most popular room for homeowners to renovate, is, in fact, the kitchen. That's because you can do so many great things with it. Add a beautiful countertop. Put in new cabinets. Redo that old floor you've always wanted to get rid of. And that's not even mentioning all the lighting, backsplash and appliance options.
What's popular in kitchens now that's going to make you want to create your own recipe for a remodel? Let's find out...
Open Shelves
If you need more storage space, look to open walls. Adding shelving to the walls is not only a huge trend right now, it's practical, too.
Utilize all the space you have available to you with vertical shelves that help open up the kitchen and make it look taller. You can put some of your appliances on these shelves and your liquor or wine bottles as well. The display should be carefully thought out so the shelves don't look cluttered.
You can use these shelves to facilitate a number of styles for your kitchen. For a country vibe, you can place rustic elements throughout. Modern styles would call for more monotone colors with an occasional pop of color. These shelves really let you play with the space, make it your own, and store your items.
Change That Countertop
Natural looks are on the rise in kitchen remodeling. With that comes more and more people seeking marble countertops or imitation marble countertops.
That's where slabs of quartz come in. Quartz countertops can save you money when you're thinking of marble. They also come in a large number of colors, so they can match the theme of any kitchen.
A Metal Mix
If you're looking for a small renovation, look no further than your hardware. Faucets, cabinet pulls, and light fixtures can all be easily swapped but make a big difference.
Stainless steel is making a huge appearance in kitchens in these areas. But mixing metals has become even more popular. Think about bronze and brass together with that stainless steel. Champagne brass has also been on the rise recently.
Glass Cabinets
Changing the look of your cabinets can renew the look of your entire kitchen. If your cabinets haven't been updated in a while, you can look to your cabinets to give your kitchen a makeover.
If your kitchen leans toward the smaller side, then you can consider adding glass cabinets to the area.
Open a Window
Letting the light in makes all the difference in the kitchen, and any room of the house for that matter.
If you don't have a window to let the light in? That's where it's time to renovate. Allowing natural light to flood the room brightens the mood and opens up the entire area.
Statement pendant lights have also seen a huge surge in popularity lately. Chandeliers hung over kitchen countertops make a bold statement, and let everyone know that your kitchen is unique.
Looking to make a change? Reico Kitchen & Bath is your one stop shop when it comes to remodeling your kitchen. We work with homeowners to make their kitchen one that they're going to want to cook every meal in. Yep, that can be you. We'll let you sit back and relax while we do your remodel, so then you can get to work in a kitchen that makes you smile.