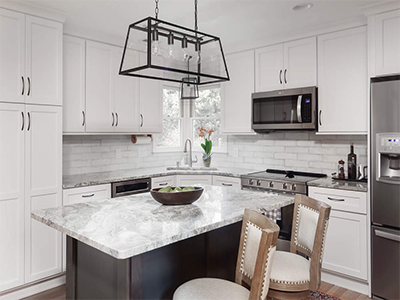 When you are remodeling your kitchen or your bathroom, you really just want to know what you should expect. There are so many ideas, decisions and moving parts. You are getting information from so many different places. We are confident you have been hearing stories from every person you know that has remodeled anything.
Deciphering remodeling myths from the reality of what your experience is very important in removing the stress from your project, and with our expertise we feel like we are in the perfect position to help you understand the truth. Here are some ideas on how to sort through all those remodeling myths that you're hearing.
Remodeling Myth: You Can DIY Your Whole Project
It might seem like a wonderful, budget-friendly idea at the time, to be able to do your own kitchen or bathroom renovation from the start. Why not save a few bucks, right?
When you go full DIY and are not the expert in whatever project it is you are tackling, the risk associated with your project typically goes up. It is more likely that you are going to reach a point deep into the project and realize that you are in way over your head. At that moment, it is not unusual that the cost starts going up. You will have to call for help, in some cases costing you more in the long run considering you have already bought and used materials that might not be able to be salvaged or redesigned. A good kitchen designer will navigate you through specifics that you might not have thought of to ease the stress and create a beautiful, well-designed kitchen.
Remodeling Myth: If It is Trendy, You Should Do It
Bright colors are trending! It is super cool to do a modern look! Avocado green appliances are back in style...to stay this time! While any (or all) of these might be true at the time, trendy styles are not always going to be the ones that you love for a long time, or even last for a long time. You might paint your kitchen the color of the year during your renovation, but next year realize it was much too bold. Painting is relatively easy, but other decisions could be more costly.
If you are someone who wants to play it more safe or conservatively, keep the style of the kitchen more traditional and functional. Or go transitional to give it a newer look while still retaining some elements of the traditional style. Both styles work, especially when it comes to the idea reselling your home at a later time.
Remodeling Myth: If it is Bigger, It must be Better
Maybe you look at your friends' kitchens or bathrooms or see those TV shows that fill your head with oversized dreams and wish that you had a space that big. While it might be true that having a lot of space is nice, it is not always necessary to have a lot of space to have a design that flows well.
If you have a big kitchen or a big bathroom but have poor flow from room to room, size does not matter. Instead of focusing on increasing the size of a kitchen, focus on increasing the workability. For example, designing a space where two people can easily use the counter is very important in creating comfort and ease of use in the kitchen. The same goes for a bathroom counter. Some people even like it when their work zones aren't spaced too far apart, because when working areas aren't close enough together, your kitchen or bathroom is not as efficiently laid out and simple tasks can take a lot longer.
It all comes down to striking a balance between the size of your kitchen and the accessibility of all your work spaces. Yes it is important to have plenty of storage, but not if it gets in the way of your everyday kitchen tasks. And, it is necessary you have an easy to use countertop to prep your food. Your contractor or designer can help you lay out a perfect kitchen or bathroom according to the size that you already have, or talk you through an expansion.
Remodeling Myth: You Can Figure It Out as You Go
If you find a contractor or a designer that feeds you this line, run away as fast as you can. When you fail to plan, you plan to fail. Especially when it comes to planning for a kitchen or a bathroom remodel.
That being said, changes do happen. If you decide halfway through your redesign that you want to move the sink, that is okay. It could mean you are going to have to completely re-do your plumbing. That means more cost for you, and a longer process for your remodel. Choosing the materials later can add time as well if lead times are not taken into consideration. By planning in advance, you can allow time to gather everything from the start instead of having to wait because of decisions made later on.
Remodeling Myth: Your Contractor is Ready to Start
If you get caught up in watching reality shows about remodeling homes, it is all-too-easy to start to believe that once you hire a contractor or designer, they are going to show up to your door the next day with a design and ready to work.
In actual reality, your designer or contractor is probably working on another project when you call them. They need time to be creative and work with you to create the right design with the right products and get them ordered and delivered before they start on the actual remodel. They need to walk through with you and plan for every step and situation. Why? It's remodeling. Something unexpected is always going to happen. Communicating your exact vision for your remodel doesn't happen overnight, so allow yourself and everyone involved the time to do it right.
Remodeling Myth: It's Going to Break the Bank
The most important way to debunk this myth is start by creating a strict budget for yourself. Your kitchen or bathroom remodel is most certainly doable, but in some cases it may mean that you are more limited when it comes to choosing your materials and the scope of the project.
Talk to your designer and let them know that you have a budget that you must stick to. Get their advice on where you should consider putting more money into certain materials and or where you can cut costs without sacrificing quality.
Bonus myth debunked: buying the cheapest material is not always actually going to save you money. Certain products and services will not always handle the test of time, meaning you are increasing your chances of replacing those things you have just redone much sooner.
Reico Kitchen & Bath can work with you to separate the facts from all that fiction. We know it is a critical element in helping to create a great remodeling experience. Take more stress out of the process and put it into our hands. With decades of experience we know that whatever you can dream, we can build. Get your new project started today!