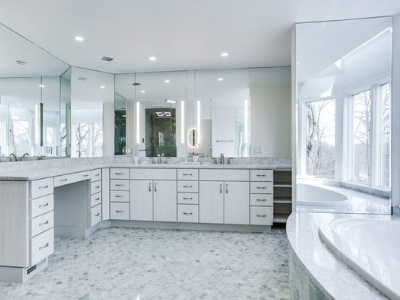 If you were to ask anyone if they wanted their bathroom to be more luxurious, we're pretty certain the answer would be yes. But we want a luxurious bathroom, for less.
Budget bathrooms actually can look luxurious. You just need to map out your strategy first. A light remodel with the right moves can both save your dollars and make your bathroom look like new. Small bathrooms and large bathrooms alike can all come together into the space you've been dreaming about.
Bring the Outside In
There are few moves that can take your bathroom from zero to hero in a shorter time than adding windows. You can utilize window treatments that let light in, or add a new window all-together. You'll be amazed at the lighter, airier, and more open feel of your bathroom once you let more natural light in.
If your bathroom doesn't border an area where a window can be added, fake it 'till you make it. Adding plants brightens the area significantly, and freshens up the air. Even artwork that mimics the look of nature will inject a spa-like element into your area.
Lighting also plays a huge part in making your bathroom look less than luxurious. Getting more natural light instead of your grungy, dim lights can make a world of difference, and doesn't have to break your budget.
Tile the Extra Mile
The most zen-like bathrooms use tile to their advantage. The most expensive-looking bathrooms feature tile in a creative way, which actually doesn't run up your budget too much.
Choose more neutral colors and understated designs to give your bathroom a timeless look that you won't have to redo again over time and end up spending more money. Tiling around a square tub will create a modern, luxurious effect for the whole area.
Featuring tile in your shower can also inject the whole space with personality. It doesn't have to be a lot - a little extra detailing can go a long way.
Trim and Proper
Adding trim around your bathroom can really punch up the whole look, and inject a pop of color where you might not have expected it. You can add a tile trim, wallpaper, or just paint. Speak with your designer to see what color will look best, and what material will add the most value.
It's the Stone Age
You automatically feel like a bathroom is expensive when you see beautiful, natural stone featured in the vanities or the walls. Luckily, small stone accents can have a powerful impact. And when you're choosing marble, you don't have to choose the most expensive kind. Certain types of marble can cost fractions of the price of more expensive types. Your designer will know what kind to use, and how to add it to your countertops or other accent areas.
Stand Alone Tub
A stand-alone tub is one item that spells surefire luxury. If your bathroom allows, adding a clawfoot tub to your space can really kick the spa-vibes into overdrive. Your designer can let you know if such a move is possible in your bathroom, and how much it's going to cost. In certain cases, even a small bathroom can be renovated to include this design element. (HINT: it's easier than you think.)
Let Reico Kitchen & Bath plan your bathroom remodel with you. We know just the things you need to focus on to get the most out of your makeover. Our experts have worked with countless homeowners to make their design dreams come true. You can be next. All you have to do is contact us today, and we'll do all the hard work for you.