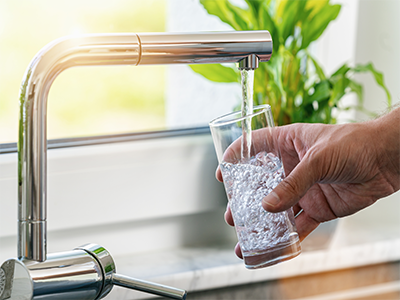 At Reico Kitchen & Bath, we like to think we have 20/20 vision. Like every year, we are staying in tune with all the latest trends that are going to make your own kitchen remodel the perfect remodel for you, and a remodel that's going to last you for years to come.
Smart technology has been one of the most quickly rising trends in home renovation, and it is only continuing to skyrocket. As time goes on these added features become more and more efficient, fitting your everyday lifestyle with great ease. If you are wondering what is trending in smart technology for kitchen remodels and bath remodels, we see a lot of options that are set up to make your life easier.
Smart Wireless Sound System
This smart technology remodeling trend might just be music to your ears. You can quickly and easily connect your kitchen, your bathroom, and your whole home to a wireless sound system. Adding a smart speaker to each room of your house allows you to enjoy your music, your podcasts, or whatever you love listening to, wherever you go in your home. You can control it all from your phone, and go hands-free through your house. It is also the perfect setup for hosting a party, where you can easily play music in every area of your home.
Smart Lighting
The power of light can now be in the palm of your hand when you install smart lighting into your kitchen, bathroom and throughout the home. This is one of the most popular features of smart technology: being able to command your lighting with the touch of a button. No matter where you are, you can control the lighting in your house. This is particularly useful if you are on a vacation, you want your lights to turn on at a specific time, or you simply forgot to turn off the lights before you left the house.
Smart lighting features are also becoming more functional. You can tell your lights to dim if you're setting the mood for a romantic evening in your kitchen, or even if you just want to lighten or darken the area to match your needs. Colors of light can also change on demand, and can be synced up to your wireless sound system to change light according to the beat of the music. Not only can these lights be used with your phone, but they can also be programmed to activate by your voice, especially if you are using a smart home assistant.
Smart Toilets
You might have already used a smart toilet in a fancy hotel or restaurant, but now you can bring one back home to your very own bathroom. These high tech-toilets use motion sensors to lift and lower the toilet lid, so you'll never have to remind anyone in your household that they need to shut the seat ever again. Most also come equipped with LED lights for easier use in the dark, and toilet seat warmers. You can even equip your bathroom with a self-cleaning toilet complete with an antimicrobial seat, so you will not have to worry as much about germs. Check out what Kohler offers in smart toilets.
Waterproof Television
Want to watch Netflix while you shower, or catch your favorite movie will soaking in the bathtub? A waterproof TV is an easy add to your bathroom that will really step up your luxury game. No you no longer have to fear ruining your iPad while you try to catch up on the game. You can also sync a smart television with your phone, and control the programs remotely.
Digital Showering
When you use this option in your home, you might feel like you're stepping into the future. These smart panels allow you to have complete control over the customization of your shower. Control the water temperature down to the degree, so you never have to think about being too hot or too cold again. You can choose the pressure of the water flow, and even add music. Combining a LCD shower panel with a luxury, high-pressure shower head is the ultimate combination for your shower experience.
Smart Faucets
Similar to the way that LCD shower panels allow you to optimize your shower experience, digital faucets also change the way you use your tap. When your kitchen and bathroom are both equipped with digital faucets, you're able to activate your water with motion control, without having to use your hands. Using infrared technology, the water can sense when something is under the faucet, and turn on that way.
These faucets can also be programmed to run for specific times, like the amount of time it takes to brush your teeth or fill up the basin to do dishes. They can even save you money, because they help promote better water conservation practices.
Smart Mirrors
Having a smart mirror in your bathroom can give you a big leg up on the day. You'll be able to see the weather, look at your calendar, or look at the traffic for the day. Smart mirrors can be customized to show you whatever options you've programmed. If you want a daily reminder to pop up in the mirror, you'll be able to give yourself that note you needed. Begin and end your day by looking into a smart mirror, and you are not only staying on top of smart technology remodeling trends, you're staying on top of the news, reading, or anything else you needed to view that day.
According to a survey done by Houzz, the majority of homeowners receive help for the installation of their smart devices. Whether you just want to add a few smart options or do an entire remodel, we are here for you every step of the way. Want a smart kitchen or bathroom? At Reico Kitchen & Bath, we will partner with you to determine exactly what works for your space and what does not. Let us meet with you and share all our expertise on how to get the best remodel you can. It is time to put that vision that you've always had into action by renovating your space today.