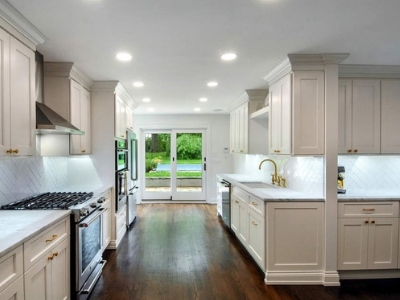 When you're planning your kitchen renovation, you might feel like there are just too many hoops to navigate through. There are so many things to think about, and it's easy to feel overwhelmed. It's actually a good starting point to know what not to do in your kitchen renovation. That way, you'll know exactly what to do when the time comes.
Don't Sacrifice Quality
It's tempting to look at a cheap appliance and think it will suffice for what you need in your kitchen. But you'll undoubtedly make up for that later when your appliances break down and you have to go through the trouble of fixing them. You might have to shift your budget around to get an appliance that's a next step up from a cheap one, and forgo something else for now.
Don't Ignore Your Workflow
Say it with us - "Work triangle, work triangle, work triangle." This is arguably the most important part of your kitchen, and your biggest regret in your kitchen renovation might just be not getting this part right.
You should be able to walk between your sink, stove, and fridge with ease. The trip shouldn't take long - you should be able to do it in a few efficient strides. These are the busiest areas in your kitchen, and placing them awkwardly in relation to one another is only going to cause you trouble down the road.
Don't Choose Fragile Materials
That limestone you're looking at might look super pretty, but it's not going to look super pretty when it ends up with water rings all over it. And marble seems like a great idea, until they're stained. Other countertop materials like glass crack and chip easily. Powerhouses like quartz, on the other hand, are a great option for both looking good and standing the test of time.
Don't Ignore Professional Designers
It's more than fine to have an idea in your head of how you want your project to go. But it's not fine if your designer tells you it's out of reach for your budget or the design of your house. Expert advice is always going to be better than your own advice - unless you're a professional kitchen designer, too. When you speak to a professional, they'll be able to streamline your plan and let you forgo using products that won't work for your home, unfitting materials, and a poor design plan.
Don't Forget to Enjoy Yourself
It's a sad but true fact that relationships are often put under a lot of stress during renovations. But when that happens, you're forgetting the most important thing - renovations are supposed to be fun. You're going to end up with a beautiful kitchen, and you should enjoy the process of getting there as much as possible. Prepare yourself for frustration, and when bumps in the road inevitably come up, you won't be surprised.
You don't have to worry about a thing when you choose to renovate your home with Reico Kitchen and Bath. For every step of the way, we'll be there for you. We know what not to do, and we definitely know what to do. We can look at any kitchen and tell you just what it needs to be great. Don't wait to renovate because you're scared of making a mistake. Contact us today.