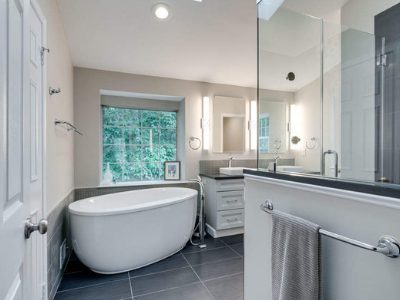 What's the area in your house that gets the most use? Maybe your living room? Maybe your kitchen? That might be, but you use your bathroom every single day, without fail. Your bathroom might be your most used room, but it's also probably your most neglected room when it comes to design. In case your bathroom needs some design inspo, look to the top trends of this year to get you where you want to be.
Compare and Contrast
Bathroom finishes usually match. Yawn. A white wall. A chrome finish on the faucets.
But in 2019 we're shaking it up. Newer trends throw this matchy-matchy idea to the curb in favor of more contrasting looks. Dark tones with brushed brass. A dark wall and a glossy white vanity. Many times, your design elements can be more striking if you mix and match them. Don't go too crazy with the mixing and matching - just one element that stands out from the rest will have a big payoff.
Open Shower
Open showers bring may flowers. And showers all year round. Instead of having a door to your shower, ditch it. This trend is starting to crop up more and more frequently across showers. An open shower can really open up an otherwise tiny bathroom, and brings a super edgy, modern vibe to any space.
Minimalist Sinks
A busy and crowded sink is a busy and crowded bathroom. Sinks often make up the focal center of the bathroom, so the look affects the rest of your space dramatically. Installing a minimalist sink gives a sleek appearance to your bathroom like no other fixture can. Wall-hung sinks are huge, and aren't going away anytime soon. Big basins with plenty of functionality are a great way to update your bathroom right now.
Metal Tones
Metallic tones being used throughout a bathroom isn't a new concept, but it's a big concept right now. Copper, tin, and steel are showing up in bathrooms in finishes and tiles to give a modern, fresh look that's not quite like anything else. Metals also help to reflect light, and can actually brighten up the entire feel of your bathroom.
Industrial accents, too, are emerging in full form in 2019. Pipe faucets and valve handles are right on the pulse of the trend right now. Exposed shower plumbing can also be incorporated into the look of the bathroom.
Long Tiles
If you're thinking of retiling your shower, show off your design expertise by choosing skinny tiles. Small tile design details are hitting showers big in 2019! Give classic subway tiles a newer, fresher look with this skinnier tile look. They're stacked close to one another, with much smaller widths.
Reico Kitchen & Bath always has a finger on what's trending...not only in bathroom design but kitchen design as well. No matter what rooms need to get an update, we know the steps you need to get there. Contact us today, and you'll be well on your way to a new, stylish design that will treat you well for decades to come.