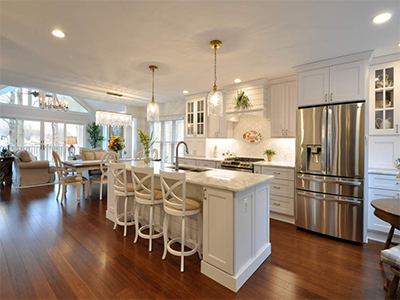 Let's say you are looking to update your kitchen. You want it to be current. You want it to be comfortable. And, you definitely want it primed and ready to handle all the cooking you want to do. Sound about right?
You bet it does! But if your kitchen is old and outdated or poorly designed, you are probably missing out on at least one of the things mentioned above. Even worse, you may even be missing all of them in your current kitchen. But take a breath. You do have options. An open concept kitchen that is current, comfy and ready to cook in is waiting for you on the other side of your kitchen remodel, creating a layout that finally allows you to move through your space with ease.
Here at Reico Kitchen & Bath, we are ready and waiting to get you started on your new kitchen project right away. If creating an open concept kitchen is a top priority for you, here are some reasons why you should give some serious thought on your way to creating yours:
What is an Open Concept Kitchen
First of all, let's be sure we are all clear on what an open concept kitchen is? You have likely seen one before and did not know that you were stepping into an open kitchen concept space. If the room was inviting and spacious, that is typically a sign that you were in one.
An open concept kitchen is a space that is defined by the removal of barriers or walls that traditionally might be found in the kitchen. How many kitchens are boxed in by walls that may not be load bearing and confine the space you have? In an open concept kitchen, where you might expect walls to surround the area, you will find that it opens into another room without separation. Technically, an open concept kitchen can open up into any room to qualify it as this style, but usually you will find that most open concept kitchens open into the dining room.
While it was introduced in the late 1950's to create more space in smaller sized homes, the open concept is still considered fairly modern, and. Most kitchens are built slightly differently than other rooms, and the weight of the home is carried by load-bearing support beams rather than the walls or partial walls of the kitchen. Virtually any existing kitchen can be remodeled to incorporate open concept design, pending the proper inspection of the homes' construction by a professional.
So, Why Should I Remodel into an Open Concept Kitchen?
Open concept kitchen designs come with a long list of benefits to be considered for your kitchen remodel. When you design a kitchen in this style, you are potentially adding a significant amount of value to your home, getting away from the old and in with the open and new. Increasing the resale value of your house is just one of many reasons an open concept kitchen might be the design of choice for your renovation.
Open Up Your Space
It is obvious that removing walls and allowing your kitchen to open up into another room (or rooms) of your house is going to make the size of your cooking space look and feel bigger. When you have fewer walls, the sense of spaciousness immediately increases. It allows your entire kitchen and adjacent room to breathe, feel less cramped, and generally appear larger overall.
Sight-lines are maximized as a result, allowing you to be able to see a larger view of the entire space. Typically, this is a move that also creates more natural light throughout. Adjacent rooms with windows will now stream some of that light into the kitchen, directly or indirectly, and everything looks bigger and brighter as a result. It will also factor in to what your renovation requires for lighting.
Make Room For Hosting with the Mosting (space)
You have literally (and physically) broken down barriers that were in the way of you hosting a party when you go with an open concept kitchen. Anyone who has ever hosted a party knows that everyone inevitably ends up spending a lot of time in the kitchen. When you are trying to entertain guests at the same time, a walled-off kitchen can make space feel tight, and interacting difficult in these closer quarters. Open concepts improve the use of your space, optimizing the square footage of your house and making the kitchen and adjacent room or rooms more accessible for all.
Make Way for an Island
A popular design element that goes hand in hand with an open space remodel is adding a kitchen island to the area. In certain cases, breaking down a wall might mean sacrificing a small amount of counter space. This can often be easily remedied by the addition of a kitchen island, which your space now has the room for. Incorporating an island also gives a natural focal point to the area.
Being able to seamlessly transition between two areas brought together also allows you to use the storage space of those two rooms much more easily. Where you have cabinets and storage in your kitchen, you are able to also potentially store small kitchen appliances in other cabinets or cupboards you might have previously kept in adjoining rooms.
Create Cohesion
By removing walls, you are transitioning your kitchen into being more visible from other areas of your home. This is a great opportunity to introduce one style to your entire home, allowing everything gel together more naturally and in a way that it never did before. Furniture, lighting accents, design - all are things that can be modified to match with the existing style of your home. You might even use it as an opportunity to give the rest of your house a makeover.
More Air Circulation
Similar to how creating an open space can brighten up the look of the entire area, an open concept will actually allow for more air flow and circulation through the entire area. When you are in the kitchen, you are working with a lot of smells and heat that can get quickly trapped inside a small room with enclosed walls. When you open that space, the openness along with some increased ventilation allows smells to dissipate more easily.
At Reico Kitchen & Bath, we know kitchens. When you are working with a business that has been around since 1952, you know that you are going to get the expert advice you need to create the kitchen want or need. Are you ready to turn your kitchen into an open concept design or something else new and exciting for you? Contact us today and let's create your new kitchen together.