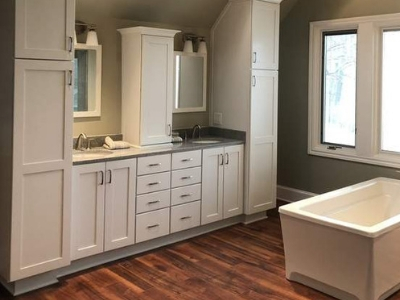 Nothing can spruce up your kitchen on the inside and the outside quite like getting a new set of kitchen cabinets.
What do we mean by the inside AND the outside? New cabinets will give a facelift to the entire look of your kitchen at first sight. Fresh new wood, a fresh new color, and crisp new doors are a surefire way to renew the look of your kitchen.
But new and updated storage techniques also mean that you'll be able to store what you weren't ever able to store before. The inside of your cabinets never looked so good. And now you have more space than ever.
All that's left to do is decide the door style for your new cabinets. And you've got options.
Shaker Style
This door has one solid insert on the outside in a rectangular shape. It harkens back to the Shaker style furniture.
This style is typically paired with wood, such as cherry, maple, or oak. It's a strong classic that will look great in any kitchen, and perfect for anyone going for a simple look.
Slab Style
The slab style is as it sounds. It's just a smooth piece of wood (or whatever material you choose for your cabinets.) It gives your cabinets a frameless look, which imparts a modern or contemporary look across your whole kitchen. Because you're getting just one solid piece of wood, this style usually comes with a higher price point.
Cathedral Style
If you've ever seen a wooden cabinet with a single arch decorating the wood, you now know what to call it. This is one of the more popular styles of cabinet doors and is friendly on the budget. Not for someone going for a modern look, they harken to Victorian style.
Cathedral style can also have a double arch, instead of a single arch. Fittingly, it would then be called a double arch cabinet. The grooves in the doors tend to be deep and pronounced and look elegant and durable. They're also fairly budget friendly. For someone who likes details in their cabinets, this is the style to choose.
Mullioned
These cabinet doors look like tiny little windows. "Mullions" are vertical and horizontal pieces of wood that create the appearance of a window. They allow you to place glass on the back of them so you can see through into your cabinets, or cover them up with opaque glass or coverings.
Glass Insert
Getting a glass insert in your kitchen cabinet is a play on the classic shaker door. You can also get glass inserts in most kitchen cabinet styles (like mullions!)
Glass windows usually look best in wooden kitchen cabinets. They lend a light and open feel to your kitchen, and allow you to display what you've got in your cabinets. If you want to hide what your cabinets are holding, steer clear! But if you want to create more depth in your kitchen by opening up sight lines, a glass insert might be for you.
At Reico Kitchen & Bath, we're ready and waiting to get you hooked up with your new kitchen cabinets. All you have to do is contact us, and we'll let you know everything you need to do to get started. Then we'll be with you every step of the way until your new cabinets are brightening up your home.