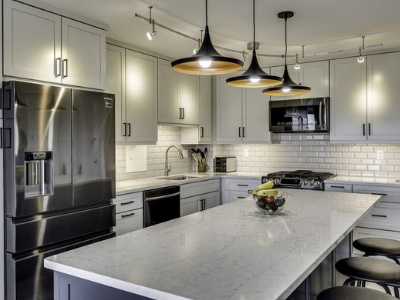 When you think of your kitchen, what do you think of? A place to create, a place to eat, a place to gather?
The Research Institute for Cooking & Kitchen Intelligence conducted a study that asked people what they thought the role of the kitchen in their home was. Most homeowners thought that in their current 21st century home, they were spending more time in their kitchens than ever.
The majority of people said that beyond cooking and eating, they're spending more time in their kitchen engaging in other activities for extended periods of time. Reading, doing schoolwork, watching TV, paying bills, and listening to music were all on this list.
Homeowners are using their kitchens for everything, a trend that's actually predicted to pick up in the next few years. How can you make your kitchen more 21st century? You want people to spend time there. So make it into a place where they can.
Create A More Open Floor Plan
If your kitchen is cramped, you might not be one of those people who does lots of different activities in your space...yet. In an evolving kitchen, you want to have free space to move around and entertain.
If this is your kitchen's problem, it's time to work with a designer to get a more open floor plan. Perhaps you need to knock down a wall, rethink where your appliances are located, or assess the flow of your kitchen. Your work triangle should be convenient and free of obstacles. If it isn't, it's time for a change.
Introduce Smart Appliances
Our world is more technology-driven than ever. Cell-phone docking stations. Smart cabinets. Appliances with Wi-Fi and Bluetooth. Lights connected to Wi-Fi, heated countertops. Your ability to take your kitchen into a high-tech station has never been greater.
If you can start heating your oven remotely while you're on your drive home from work, you can shave a lot of cooking time off. That way, you'll be more free to spend your time in your kitchen doing things you enjoy.
Include Pet Care or Other Personal Spaces
Dog and cat ownership is on the rise, especially for single people or newly married couples. You've seen the people who treat their furry friends like their babies - you might be one of them! If you are, you know that you keep your pet food in the kitchen, and possibly a dog bed or a few toys too.
Besides your traditional work triangle, you can have a place in your kitchen that's just for you (or your pet.) You might consider having your remote workspace set up in your kitchen at the counter, or your laundry room might be connected to your kitchen as well. Whatever space makes your kitchen feel more cozy and personalized to you, you can work with a designer to bring it to life.
Focus on Seating
It would be hard to spend a lot of time in your kitchen if you didn't have anywhere to sit. Your seating might need some work if all you have are three uncomfortable bar stools. You can add a drop counter to your kitchen bar where you can add even more seating, and create a much more cozy space to eat or work.
Capture Counter Space
Think about it - one of the reasons that you're doing a lot of things in your kitchen might be because it's the place in your home that has the biggest surface space. If you've ever paid bills in your kitchen, you'll remember how you had them spread across your counter, because they all fit neatly.
Is your counter up for the job? Whether you're setting out a feast or streaming a TV show on your laptop, your kitchen counter is essential to a 21st-century kitchen. For a counter that can stand up to all kinds of wear, granite slabs and engineered quartz are all a great option.
Ask a designer if your kitchen is a good candidate for an island if you don't have one already. This will add even more space for entertaining and activities than you had before.
Reico Kitchen & Bath can help you take your kitchen out of the dark ages and into the 21st century. Let us work with you to make your kitchen a place just for you and all the different things you need to do. From workspaces to a better, more convenient place to cook, we want your kitchen to be the best it can be.