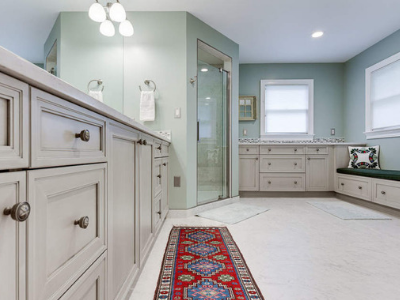 Do you have a place in your home to go where you can relax? Get away from the stress of the mess? Or just veg out after a long day? If you don't, there's a room waiting for you. The bathroom is a perfect place to design as your own personal getaway. Soak in your tub or take a long hot shower in a place that's perfectly designed.
Separate Style
Your bathroom doesn't have to match the rest of the decor of your house. Maybe your whole house is decorated traditionally, but you absolutely love farmhouse style. Since the bathroom is usually a small room, making it different in style from the rest of your house is perfectly okay. Choose your favorite style, and make it come to life in your bathroom design. You can always close the door so no one knows about your private getaway.
Focus on the Door
Speaking of the door, if your bathroom door matches the rest of the style of your house, keep it. Then, when you enter your bathroom, that's when the new style can begin. That way, your bathroom will look like it belongs in the house even though it's a newly revamped space.
Flawless Flush
Here's something you probably don't spend your time thinking about: how does your toilet flush? If you're looking to make your bathroom a little getaway inside your house, you don't want a toilet that doesn't do the job. Old, less efficient toilets are going to stress you out, especially if you have guests over. Adding a new toilet to your bathroom not only gives you a new, updated look, it gives you the freedom to flush without ever having to worry.
Channel Your Mood
When you're deciding what kind of style you'd like to run with for your bathroom, you don't need to limit yourself. A modern bathroom can be a great focus, but perhaps you also like beach design elements. Instead of picking just one style, you can channel elements and create a mood for your bathroom. You can be more flexible with your decorations and create a whole new mood for your area you might not have been able to make before.
The Right Lighting
No matter what style design you choose, the right lighting will make or break your bathroom. Let your designer know if you'd like a bright and illuminated space, or if you're going for softer, moodier lighting. They can work with you to make sure you have the proper task lighting and fixtures. You can also install additional lighting above your mirror to brighten your place even further.
At Reico Kitchen and Bath, we've been turning regular bathrooms into something special for decades. Let us take a look at your bathroom. Before you know it, you'll have a private oasis to call your own. Contact us today: we're waiting to help you renovate your dream bathroom.