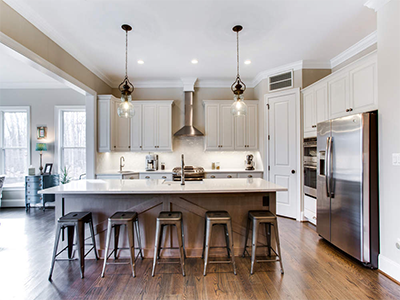 Your kitchen. It is where you cook. It is where you gather. It is where you store your food. It is the place you go to start your day early in the morning to cook your breakfast and where you end that same day up late at night for a snack. So when you decide you are doing a kitchen remodel, all of these every day activities get put on hold for a while. So, it begs the question...when is the best time of year to remodel your kitchen?
Well, it's complicated. Or is it? For most, it is personal and based on your own situation.
To determine the best time of the year to remodel your kitchen, you'll have to evaluate your own remodeling needs. At Reico Kitchen & Bath, our decades of expertise can help you get your kitchen remodel done in no time flat orwe can take as much time as you need to create your dream kitchen. In either case, you will want to plan out what time of year is right for you.
Summer
As you might imagine, the summer is one of the most popular seasons to remodel a home. In most areas, this is the time of year when the weather is most conducive to remodeling, particularly if any of the project might extend into the outdoors. The natural light of these longer, sunny days will allow you to see what the paint colors and the rest of your kitchen remodel is going to look like in natural light. You might also be using this time of year to take a vacation, or enroll the kids in summer camp and coordinating that work while all or some of you are away.
Spring
When you are already in spring cleaning mode, it is often the time to ask yourself why not also remodel your kitchen? Depending on the region some days in spring might still be freezing, so if you are expanding your kitchen outward it would be important to keep lingering winter weather in mind or those early spring showers. If the entire project is indoors, it won't hinder your project.
For contractors whose main focus is not interior remodeling, this might be the busiest time of year. Because the weather is changing from cold to warming spring temperatures, anyone waiting to pull the trigger on their home remodel might choose this time. When contractors are in high demand, it is not unusual that their prices go that way as well. Still, if you have a contractor that focuses primarily on indoor projects, this might not be an issue for you.
Fall
People who are looking to get their remodeling done in the fall will most likely miss the busy season of summer, but still be able to take advantage of the timing of the year to see how natural light looks in the kitchen. Here, contractors may be more flexible early on because they are usually finishing up their summer jobs and looking for new work to pick up. That can change quickly though as the holidays approach. You have to be doing your work… completing design, getting products ordered and creating a construction schedule to make sure that you are not cutting into the holidays. Check all these boxes and the fall could be a good time to work a remodel into your schedule. Plus, you might find a good deal on appliances or other products as next year's models are being rolled out.
Winter
While it is one of the least usual times to get remodeling done in your kitchen, this does not necessarily have to be a deterrent to choosing winter as your time of year for renovation. The thought of having remodeling happening in your kitchen throughout the holidays is the top reason that people do not select a winter remodeling date. But if you are willing to forgo your kitchen during those months you might find a contractor who can pour all of his time into your project.
Especially if you go somewhere else during the holidays, you could complete the work without too much of a hassle. Some contractors might even offer a more competitive bid during this time than compared to the rest of the year.
Regardless of when you remodel, keep in mind:
Eating Plans: When your kitchen is being completely redone, you will have to figure out alternative methods for eating your meals. This could be a good time to plan more visits with family or friends, or create a meal plan that will work with your remodeling schedule. This is another reason summer renovations are popular: if you have access to a barbecue, it makes it more simple to cook your meals. Otherwise, a microwave, toaster oven and crock pot might cover almost all your needs.

Time for Product Leads: Depending on your kitchen remodel, you might select custom or special order products. Certain seasons have longer lead times for certain products. Always ask your designer what you can expect. New cabinets typically come with the longest lead times, up to 6-8 weeks depending on your selections, so plan accordingly.

Planning Time: If you begin your remodeling project in one season, it is important to plan ahead and recognize that the project might carry over into the next season. It is very helpful and recommended that the remodel you are doing is planned at least six months in advance. This not only facilitates proper scheduling of work, it also allows you to make accommodations for any business trips or big events that might be on your schedule.

It Doesn't Hurt to Ask: If you find a contractor and a designer that you know are trustworthy, you can ask them what the best time of the year is for them to work on your project. You might even ask them if they know when the best times to buy the materials for your kitchen are, so you can purchase them ahead of time. When you communicate with your designer and your contractor, you could work out a deal where your remodel is done more quickly for a better price.

So have you figured out the answer to when is the best time of the year to remodel your kitchen? It is when you are ready. No matter what time of year works best for you and your schedule, Reico Kitchen & Bath is ready to plan your upcoming remodeling project. It's our goal to educate you, walk you through the steps, and create your dream kitchen. Let us remind you how exciting a new kitchen can be.