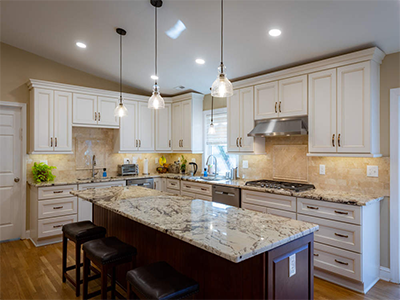 There are a few expectations that are absolutely essential and must be exceeded (or met at the VERY least) for your kitchen remodel to be a success. You know you want to love your new space. You know you want it to be a place for people to gather. And you know you are going to want to enjoy cooking in it.
For all those points to come together, you need one basic thing: a well thought out kitchen design. A big part of the reason you are considering this is because your current kitchen layout might not be cutting it. The truth? It is often not just the design. After years of trying to get things done in your kitchen space through sheer will power, it could very well be that your kitchen is not the right shape for your home and your needs. Your remodel could literally be your chance to "shape up" your kitchen and design! Here are some ideas of shapes and how to create the best for your kitchen.
Galley Kitchen
Also known as a one-wall kitchen or a walk-through kitchen, this is a kitchen layout that is often perfect for a smaller space, while in some cases still allowing space for a prep area to be included. With a one-wall galley design, this type of kitchen must utilize every inch of space available. A galley kitchen will typically eliminate having to deal with small corner cabinets and reaching around to find your tools that always seem to be out of reach. If you have got a smaller kitchen or an apartment, ask your designer about galley kitchen remodeling ideas as a shape-changing solution to open things up and give you more room to work.
L-Shape Kitchen
L-Shaped kitchens are perhaps the most popular kitchen shape. That's because an L-shaped kitchen is versatile, offering good working design solutions for both small and medium-sized kitchens. The "L" shape of the kitchen is formed by two perpendicular walls, with a countertop forming the base of the "L." Usually, the legs of the "L" are kept to less than 15 feet, because longer legs start to decrease the efficiency of the kitchen.
When creating an L-shaped kitchen design, you are designing a space that people will not flow in and out of when you are working in the kitchen. The shape helps to create a barrier and move regular traffic flow to the perimeter instead of forcing everyone through the kitchen. This can be music to certain people's ears who have a hard time cooking with family or guests wandering through your space when entertaining or preparing meals. Depending on the size of the space, this design shape can also facilitate a kitchen island and or to multiple work areas to create even more kitchen work space while keeping traffic out.
U-Shape Kitchen Horseshoe
A U-shaped kitchen is just as it sounds -"U" get the idea, right?. If not, just think of a horseshoe. with three walls that house all of the cabinets and appliances. This type of kitchen allows for a huge amount of movement within the kitchen, and is particularly suitable for anyone who has multiple people cooking at one time. For those that enjoy hosting where people have the ability to move in and out the kitchen, this design is also popular.
G-Shape Kitchen
This shape is an extended play on the horseshoe, or U-shaped kitchen. Think of the U-shape, and then add a partial fourth wall or a turn of cabinets to create a peninsula at the end of one of the walls of the U. This "lip" can serve a variety of purposes. It can provide extra countertop space to work on, more storage space and a seating place for homework to be done or a friend to sit and chat with. For kitchens with lots of cooking equipment, this can be a useful addition to the functionality to the entire area.
Depending on your kitchen's size, this space can also be a place where you might choose to install a second sink, range, or cooktop. This could allow yo to have two work triangles in one single kitchen, providing the opportunity for two chefs to work together or independently of each other at the same time.
Island Kitchen
Many kitchen shapes can accommodate a kitchen island, but a kitchen shape can be built around the idea of a kitchen island as well. The kitchen island is one of the most useful and inviting tools you can add to your kitchen. It can be your main work area and your focal point, and is a great possibility to keep in mind when you're doing a kitchen remodel.
Anywhere from 36 to 42 inches of spaces should be surrounding all sides of the island. This gives people working in the kitchen enough space to move around freely, while staying close enough to remain functional. Your kitchen island can also be home to a sink, food prep area, trash receptacle, and eating space. The versatility is up to you. The island can essentially function as a mini kitchen within itself, taking the strain off of the rest of your kitchen and freeing up space for prepping other items. Think carefully about all the functions you want your kitchen island to perform, and then ask your designer to work it into your kitchen remodel.
The shape of your kitchen is important. The number of people that usually work in the kitchen, how much preparation space you will need, and what style of entertainment you like best are just a few of the factors you should be taking into consideration. Having some ideas in mind and discussing them with your designer will make it much easier to narrow down your options and decide on what will work best for you and your space.

At Reico Kitchen & Bath, we know kitchens. And bathrooms, for that matter. When you are ready to shape up and ship out your old kitchen or bathroom, it is time to give us a call. We want you to love your home again, and give you a taste of what your next kitchen or bathroom can be.